Five Minute Friday: Refine
"You miss 100% of the shots you don't take." -Wayne Gretzky
That quote always irked me a little. Sure, the Gretzky's and the Jordan's of this world can spout off pithy bits of inspirational wisdom like that. Look at all they've accomplished? We expect them to be awesome. Because they've proven their ability throughout their iconic careers.
But what about the rest of us?
I played basketball for most of my childhood. I loved the concept of the game, the camaraderie of my teammates (sometimes), and the satisfaction of working together to achieve a common goal. When we ran out onto our court for pre-game warm up, in our matching uniforms and music blasting from the speaker overhead, all of those wind sprints and drills we'd slogged through at practice seemed worth it. I hated to lose. Loved to win. My small high school in Alaska churned out some exceptional talent (and with very little contribution on my part) won the state tournament.
Despite the joy playing basketball brought me, I hated to shoot the ball during a game. All those people watching me, teammates depending on me … what if I missed? Yet a part of me still wanted to see statistics next to my name. When the game was over and I realized, once again, I hadn't achieved much as an individual player on the court, I was mad. Vowed to take that shot the next time I was open.
I still wanted the glory and the accomplishment, yet my fear of failure kept me from even attempting to take a shot.
I wish I could tell you I learned my lesson. That somehow at the age of seventeen, my strong-willed teenage self might have realized I was in for a life-long struggle with perfectionism. Fast-forward to college, where my liberal arts education allowed my the freedom to dabble in the arts. Drawing, pottery, and creative writing appealed to me and I had requirements to meet, so why not?
I'm surprised my pottery instructor didn't boot me out of there. He made it look so easy. Ha! The only easy thing for me was slapping that ball of clay onto the wheel. After that, it was nothing but frustration and annoyance. On the instructor's part and mine. If I couldn't produce a functional vessel, or even a salsa bowl, for Pete's sake, why was I even trying?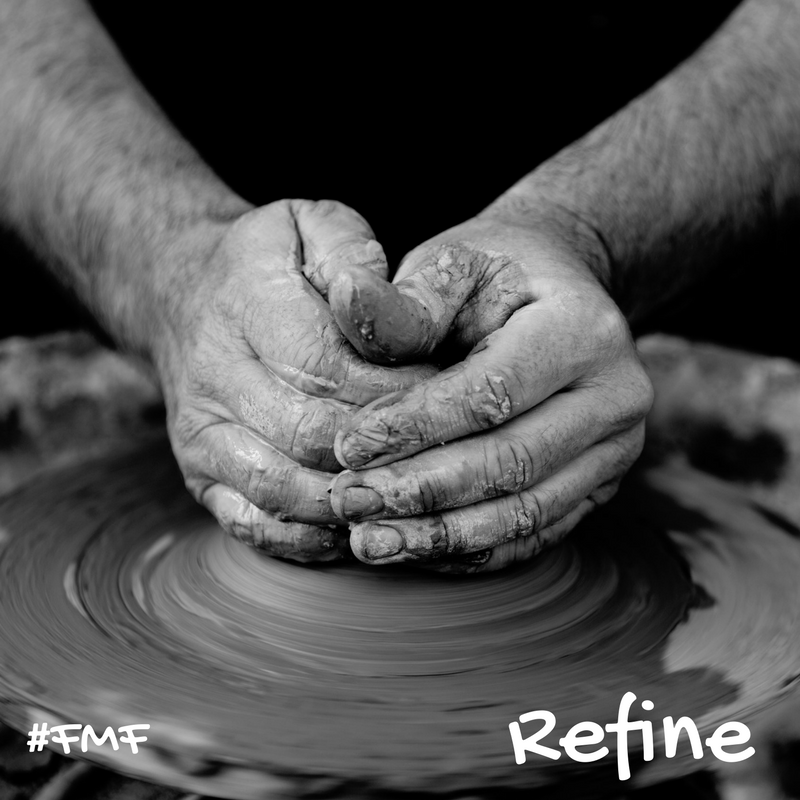 This quote from Julia Cameron speaks to my struggle so eloquently:
"Perfectionism doesn't believe in practice shots. It doesn't believe in improvement. Perfectionism has never heard that anything worth doing is worth doing badly–and that if we allow ourselves to do something badly we might in time become quite good at it. Perfectionism measures our beginner's work against the finished work of masters. Perfectionism thrives on comparison and competition. It doesn't know how to say, "Good try," or "Job well done." The critic does not believe in creative glee–or any glee at all, for that matter. No, perfectionism is a serious matter."
― Julia Cameron, Finding Water: The Art of Perseverance
The longer I write, the more I've had to learn that my first draft of a manuscript isn't going to be perfect. My second draft won't be all that wonderful, either. By the third re-write, I see glimpses of hope that this story will eventually shine. By the fourth time around, I'm thinking maybe somebody in the world might want to read this thing.
I imagine that's how the Lord is working in my life, as well. He will continue to refine me, like a potter with clay at the wheel, like a glassblower holding his work to the flame, like a woodworker turning a bowl at the lathe.
Philippians 1:6 says, "being confident of this, that he who began a good work in you will carry it on to completion until the day of Christ Jesus." (NIV)
I far exceeded the 5 minute guideline for today's prompt. Thanks for stopping by and hanging with me to the end. If you'd like to join the Five Minute Friday community, read more posts, or share your own thoughts by linking up your post, all of the details are here.
Related Posts
About Author
Comments