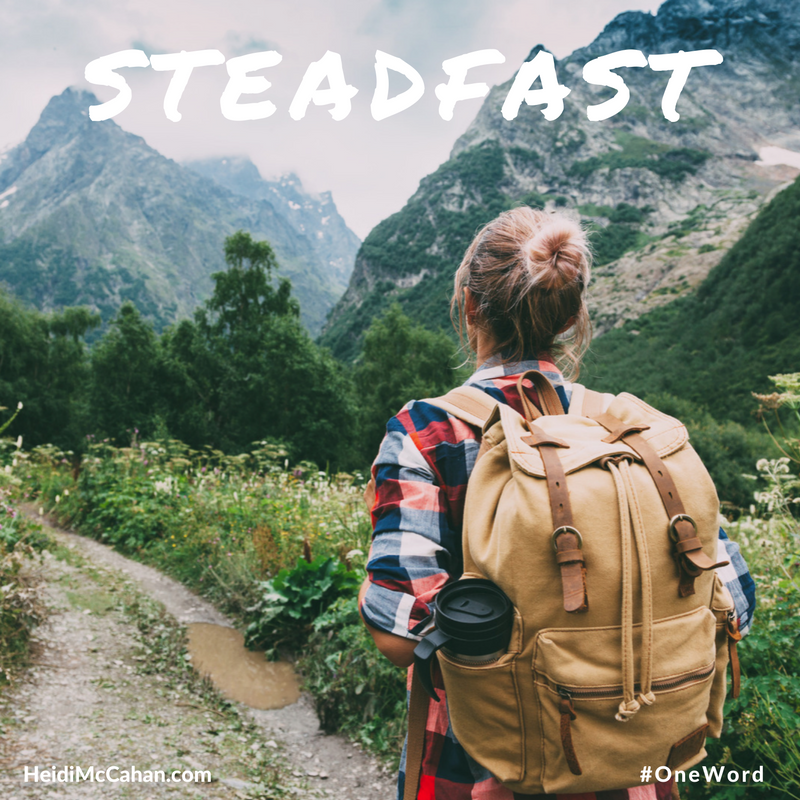 Happy New Year! My first post of 2017 is all about one word, steadfast.
The dictionary defines steadfast as 'fixed in direction; steadily directed; firm in purpose, resolution, faith; firmly fixed in place or direction; unwavering'.
I like to set measurable, specific, action-oriented goals each year rather than resolutions. Choosing one word that functions as an over-arching theme helps maintain my focus for achieving these goals.
This year I want to be steadfast in my faith, my writing life, and relationships. There are a handful of Bible verses that come to mind when I think about God's word and remaining steadfast in my walk with Him. Our Lord and Savior is certainly steadfast in His love and faithfulness toward His children.
Psalm 121:
A song of ascents.
1 I lift up my eyes to the mountains—
    where does my help come from?
2 My help comes from the Lord,
    the Maker of heaven and earth.
3 He will not let your foot slip—
    he who watches over you will not slumber;
4 indeed, he who watches over Israel
    will neither slumber nor sleep.
5 The Lord watches over you—
    the Lord is your shade at your right hand;
6 the sun will not harm you by day,
    nor the moon by night.
7 The Lord will keep you from all harm—
    he will watch over your life;
8 the Lord will watch over your coming and going
    both now and forevermore.
Psalm 141:8 "But my eyes are fixed on you, Sovereign LORD; in you I take refuge–do not give me over to death."
Hebrews 12:2 "We do this by keeping our eyes on Jesus, the champion who initiates and perfects our faith. Because of the joy awaiting him, he endured the cross, disregarding its shame. Now he is seated in the place of honor beside God's throne."
What is your One Word for 2017? Leave a comment below if you like, I'd love to hear more about your word and why you chose it.
Blessings!
Related Posts
About Author