31 Days of Five Minute Free Writes: Test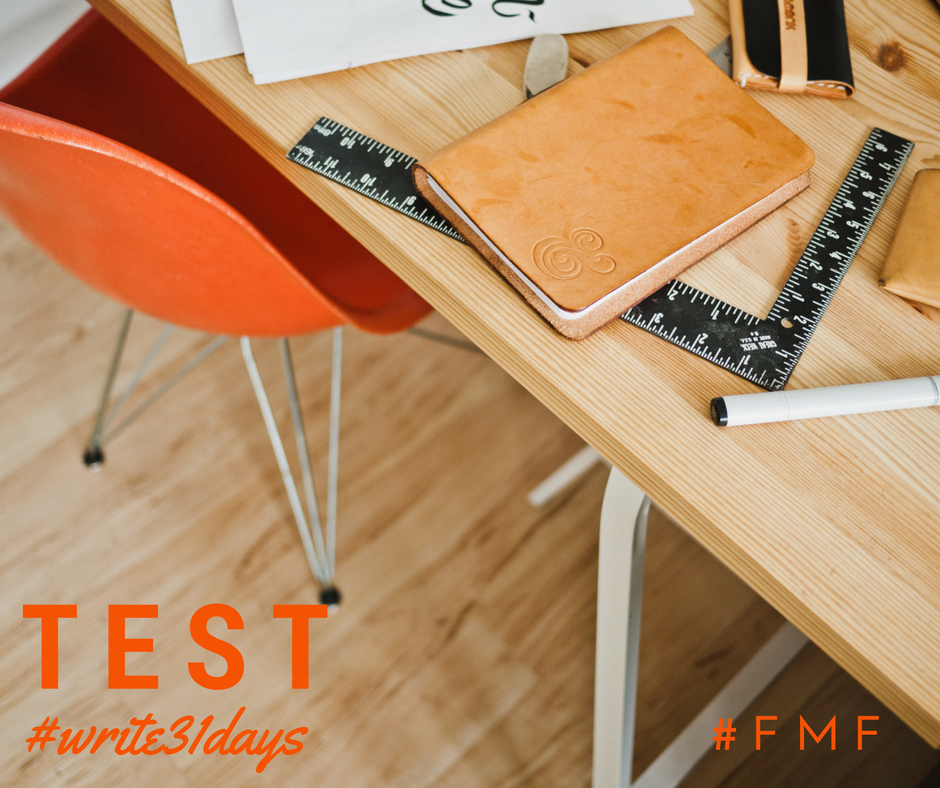 I'm not a fan of tests.
The very word makes my gut clench. A test?
What if I don't know the answers? What if I didn't study the right material? What if I fail?
I'm pretty sure it all started when my third grade self encountered the SRA tests with those miles of blasted bubbles on the answer sheets accompanied by a dire warning NOT TO MAKE A SINGLE MARK OUTSIDE THE CIRCLES.
What if I make a mark outside the circle? Will my whole answer sheet be thrown out? Will I have to (gasp!) re-live this standardized testing nightmare and do a retake?
As you can see, I'm still not over it. I was a decent student throughout my school career, but testing never went well. Thank goodness my college acceptance hinged on something more than my SAT and ACT scores.
Have I mentioned I retook a portion of my certification exam for Athletic Training three times?
"I'm just not a good test taker" is the mantra that took root, apparently long ago.
In fiction writing, we talk a lot about saddling the main characters with a lie based on past experiences–hard, painful experiences. This not only makes for a flawed character, but also creates an opportunity for the character to undergo transformation as he/she slowly learns that lie isn't true. By the end of the novel, the author must find a way to heal the wound that lie created and reveal to the audience that the character has been transformed. He or she has kicked that lie to the curb.
The longer I'm an adult, I'm learning to 'unbelieve' the lie about my inability to test well. It's a lie I need to kick to the curb, because I serve a sovereign God who has demonstrated His faithfulness to me again and again. His attendance record for showing up and carrying me through tests and trials is 100% accurate.
"He who dwells in the secret place of the Most High shall abide under the shadow of the Almighty. I will say of the Lord, "He is my refuge and my fortress; My God, in Him will I trust." -Psalm 91:1-2
This post is day 7 of the Write 31 Days challenge as well as a Five Minute Friday post, where we write for five minutes unscripted on the word of the day. If you have a post you'd like to share with the Five Minute Friday Community, please link here. 
Related Posts
About Author
Comments