Denise Hunter's Married 'til Monday: A Review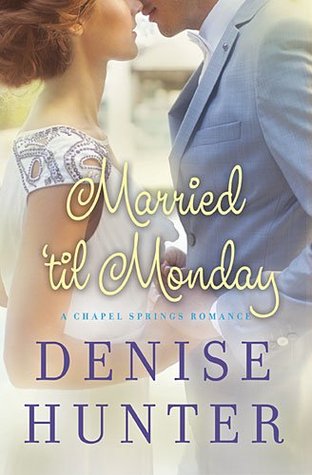 Back Cover Blurb:
With a big anniversary party in the works for her parents, Ryan will pretend to be Abby's husband for just one last weekend.
Ryan McKinley has tried to move on from his ex-wife, Abby. He's sulked, he's gotten angry, and ultimately he bought her dream house. Big mistake. Living alone in the massive 2-story has only made him miss her more. When her parents call him out of the blue about their anniversary party in Summer Harbor, Maine, Ryan believes God has dropped a golden opportunity straight in his lap.
Abby McKinley never exactly told her parents about the divorce. A strained relationship with her dad has culminated in a distant relationship with her parents, but she's finally succumbed to her mom's pressure to make the drive for their 35th-anniversary party.
Then Ryan shows up on her doorstep, looking as devastatingly handsome as ever. When he insists he's going to Seabrook, with or without her, Abby knows she can't say no. Her parents still think they're married and now Ryan knows it too. Besides, he only wants to check in with his best friend from college—her cousin Beau, who just lost his dad. It's just a one-week road-trip with the man who broke her heart. What could possibly go wrong?
My review:
Every time I start reading a new Denise Hunter novel, I tell myself I'm only going to read a couple of chapters and really enjoy the experience of being drawn into the story. Once again, it was the middle of the night and I was devouring the remaining pages. I just had to get to the happily ever after. I've read all of her books and this just might be her best one yet. As I've read each book in the Chapel Springs series, Ryan's story has intrigued me the most. Who buys a house his ex-wife loved and then lives in it alone? This tidbit has been alluded to in previous novels, so I was anxious to hear the rest of the story. The hallmark of a well-written novel, in my opinion, is when the author steps aside and lets the reader fall right into the story world. Denise Hunter is a master at constructing such an inspirational romance. Writers call it deep point of view and it's what makes Hunter's work so enjoyable. The heartache of Ryan and Abby's failed marriage was almost palpable … the regrets they mulled were so poignant, I felt like I had a personal stake in their circumstances. When Abby's forced to deal with her complicated relationship with her father, I felt myself rooting for Ryan to step up and defend her. Which he does, of course, because Denise Hunter always crafts a flawed yet somehow incredibly awesome hero. The characters walked a tight rope for most of the novel, struggling with the reality of their situation, yet longing to be loved and known like they had been early in their relationship.
I found the inspirational elements of the story relatable yet subtle. In our faith walks, we often think we're following God's plan for our lives, only to wrestle with doubt as circumstances turn out different than we planned or the obstacles still seem insurmountable. This was definitely Ryan's experience and I think most seasoned readers in this genre will empathize with his struggles. Also, he defends his bride repeatedly but also heeds the wise advice to let go and see what happens.
The McKinley family members make some appearances in the story, but most of the events occur during a road trip between Chapel Springs and Maine, so we see less of the usual cast of characters than in previous novels. I found that refreshing as it left space for us to really journey with the hero and heroine. The author does offer a tease of what's to come: Beau, the sheriff turned owner of a Christmas tree farm in Maine. I can't wait for that.
Related Posts
About Author