31 Days of Debut Authors: Brandy Heineman's Whispers in the Branches
Tis the season for a good haunted house tale and today I'm sharing a teaser for Brandy Heineman's upcoming release, Whispers in the Branches. I read Brandy's recent interview with Sarah Loudin Thomas featured in Book Fun magazine, which inspired me to reach out to Brandy and include her in my debut authors series. I enjoyed her responses to my questions and I hope you will, as well.
Book blurb:
Tending a void in her heart that demands to be filled, Abby Wells uproots her life in Ohio to move into the ancestral home in Georgia. Now that her mom is gone, it's her best chance to connect with the last of her family, and she can't deny the pull of the supposedly haunted house. The seductive comfort of believing that ghosts could be real drives her search, but Aunt Ruby's plans for Abby don't include revealing secrets kept for seventy years. Oh, there's dirty laundry she'd like to air—just not her own.

Indulging in the attentions of the house's handsome caretaker helps numb her pain, but Abby's ex-boyfriend won't let go of the past. He hounds her about his newfound religion in hopes of reconciling, but why reach for him or the God who couldn't or wouldn't spare her mom? In the stillness of the old house, the spirit world feels so close she can almost touch it.

But she doesn't know yet that there's more than one way to be haunted.
Mini-interview with Brandy Heineman:
If you could have dinner with 3 people (living or dead), who would you choose?
As a Christian, it's probably cliched to say I'd want to have dinner with Jesus, but I'll say it anyway. The Bible records a whole lot of incredible things happening when He shared a meal!
Are we all meeting at the same dinner table? Because if so, my second pick is my husband, Michael. Even though he and I can have dinner together any old time we want, I can tell you that if I was having dinner with Jesus and didn't invite my hubby, he'd be super-bummed.
Lastly, I'd invite my great-grandmother, Orilla Wells Bergreen, and try to catch up with her afterwards to tell me the real story about our family legends . . . even if I had to promise not to put them into a book.
Please share one piece of advice you'd like to pass along to aspiring authors.
Well, assuming aspiring authors know the main pieces of advice (read a lot, write a lot, and show instead of tell), I would say this: Do what works. There are a lot of writing rules out there, and most of them contradict each other, so if you want to break a rule, know why you're breaking it and go for it. If you get a critique that says, "This isn't working," listen to it. If a critiquer tells you that you're breaking a rule, then it's not working. If you know you're breaking a rule and a critiquer says, "Wow!" then you'll know it worked.
What is your writing process like? (i.e. plotter, pantser, hybrid)
(laughs nervously) It's very convoluted. I suppose I'm still refining anything that might be mistaken for a process, but it looks something like this: Whip out a draft in an all-fire burst of enthusiasm. Print it out and scribble all over it in longhand. Key in notes and rewrites. Rinse, repeat. Throw in (and out) plot lines. Get great ideas for things I should have included after announcing to my friends that the book is almost done. Make vague grumblings about being more organized next time. During nearly-final edits, research a minor point that ends up sparking an idea for the next book. Get so all-fire excited about it, I can hardly wait to start drafting it . . . As for as the plotter vs. pantser conversation goes, I prefer the term discovery writer. Much more flattering, eh?
What can your readers expect from you in the future (a sequel, a prequel, a novella, etc.?)
Ooh, that's a tough one, but I would like to see about offering my readers a shorter work, maybe a Kindle single or novella, for a little fun between Whispers in the Branches and the new book I'm working on now. In general, readers can look for me to keep writing about surprising intersections of a messy present and a hidden past with an organic faith thread to the story.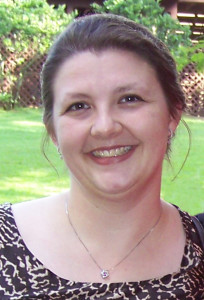 BRANDY HEINEMAN is a novelist infusing her stories with family history and faith. She's a graduate of Wesleyan College in Macon, Georgia with a degree in Business Administration and Communication. She spent a number of years working in the financial services industry, and now works in marketing.
If it's true that there are only seven plots, hers is a "Voyage and Return" story. Whether the journey held far-off places or hard lessons learned, it has always circled back to north Georgia, the written word, and the love of Jesus.
Brandy writes stories seasoned with secrets from the past and mysteries of the heart. Her first novel is contracted with Elk Lake Publishing, and she is working hard on her second. She's represented by Jim Hart of Hartline Literary Agency. When she's not writing, she divides her free time between reading, scrapbooking, and genealogy sleuthing.
She is a member of ACFW and a Finalist in the 2014 Genesis contest. She has contributed articles to Writer… Interrupted, the ACFW Journal, and Book Fun Magazine.
Readers can connect with Brandy via her website, Facebook and Twitter.
Thank you for participating in my blog series, Brandy. It's fun to learn more about you and your work.
Related Posts
About Author
Heidi
a wife, mother of three active boys, voracious reader and writer of inspirational fiction. Also a huge fan of coffee, dark chocolate and happily ever after. My first novel, Unraveled, released in 2014 and Covering Home released February 2015. I'm represented by literary agent Jessica Kirkland of The Blythe Daniel Agency.
Comments