The Ten On Tuesdays: Ten Authors That Rule Our Shelves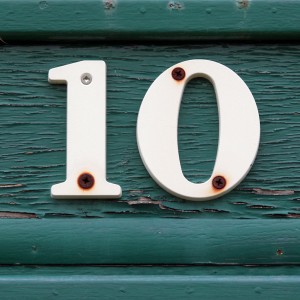 Okay, book loving friends. Confession time. Name the author (or ten) that fuel your addiction. You know the one(s). They publish a novella and it's on your e-reader. A new release is announced and you automatically pre-order. Said author visits your local bookstore and you stand in a line that snakes around the building just for a chance to meet him or her and gather that coveted autograph. These names fill the spines of the beloved books tucked on the shelves of your home or take up residence in the cloud of your virtual library. Yes, those. Tell me about the authors who reign your shelves.
Here's mine, spanning both the inspirational and mainstream markets.
1. Denise Hunter: I think I've read everything she's published. I rarely read a book a second time, but as an author, her novels are my go-to for re-reading when I need a better understanding of plot, structure and deep POV. I highly recommend her Big Sky Series and I can't wait for her December release, The Wishing Season.
2. Lisa Wingate: Another author whose work I devour. Her Moses Lake series is excellent and the cover of her September release The Story Keeper is quite intriguing. You can check that out here.
3. Nicholas Sparks: Occasionally his endings throw me for a loop, but Safe Haven is at the top of my list of personal faves. I highly recommend his memoir Three Weeks With My Brother.
4. Jan Karon: I've already mentioned my love for The Mitford Series in various posts and blogged about her wonderful decision to release another Father Tim story later this year. Can't. Wait.
5. Elin Hilderbrand: if there's one author's book I take to the beach, it's Elin Hilderbrand. Blue Bistro and The Matchmaker are my favorites.
6. Rachel Hauck:  Love Starts With Elle and the rest of the Lowcountry Romance series is wonderful. I feel like she really hit her stride with The Wedding Dress and now I'm thoroughly enjoying the Royal Wedding Series. If you're a fan of sweet, uplifting romance that feeds your craving for royalty falling for a commoner (hello, William + Kate), I highly recommend the Royal Wedding series. Once Upon a Prince is the first book.
7. Sarah Jio: The Bungalow will always be my favorite, but I adored Goodnight June, as well.
8. Mary Alice Monroe: Last Light Over Carolina will break your heart, but it is so worth it.
9. Sarah Addison Allen: magic, second chances, delicious food … her novels are quirky and delightful.
10. Susan May Warren: Despite my looming deadlines, I put aside my current manuscript and devoured her new release over the weekend. When I Fall in Love is part of the Christiansen family series and I thought it was fabulous. She's a prolific author in the inspirational market and I highly recommend her novels.
Your turn. Link up with The Broke and the Bookish ladies over here and tell us which author reigns on your bookshelves. Or else you can surf the linky and get some fabulous suggestions for your TBR pile. Happy reading! 
Related Posts
About Author
Comments