Small Victories: Baby Steps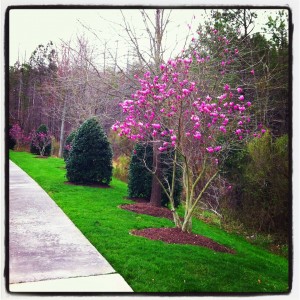 Spring is so close. We can almost taste it. The trees have gone from barren to blossoms seemingly overnight. I'm sure we have nothing to whine about in comparison to the rest of the country, but the South is officially done with named snow storms and that unfortunate series of events known as the polar vortex. We're ready for hot and humid. The daffodils are already out, clusters of butter yellow happiness saluting from my neighbor's yards. These tulip trees are my favorite. I love them so much, I blog about them every year. I just can't get over the color and the small victory it represents: when they start to bloom, I know spring is just ahead. We always have one last cold blast right after their color pops, then it's officially spring. We're marching, sometimes baby steps, ever closer to a new season. Can't wait.
Since our kids have started playing organized sports, I've learned a thing or six about parenting. While we secretly long for our kids to be the star of the show, sometimes that isn't part of the bigger picture. Ours aren't showing tremendous talent in any particular sport yet, but they play willingly and have been blessed with wonderful coaches. Yesterday, our first grader took the opportunity to score a basket in the last game of the season. He started playing last year and didn't even know how to dribble.  This year he came back to play with his same team and same coach and he really flourished. I was struggling to take a good picture with my camera (and never did succeed) but I decided to put my camera down and just watch. I'm so glad I did, because he scored a wonderful basket and the expression on his face was just priceless. He rejoiced all the way back down the court, a huge smile, arms thrust high. It was my favorite moment of the whole season. His coach was delighted, too. Sometimes it's better to cast aside the need to document every single moment of our lives and just enjoy it as it comes.
Lastly, this is anything but small … quite humongous, actually … but my publisher sent me a sneak peek of my novel's cover on Friday. Whoot! It was a surreal experience. One very significant baby step toward publication. I've only dreamed about it since forever and suddenly, there it was. I still can't believe it. I have to admit my husband has caught me staring at the image on my computer screen a number of times this weekend. I don't have the final approval to go public with it just yet, but I can't wait to share Unraveled with the world very soon.
How about you?  Any small victories you'd like to share? I'm linking up with my friend Rachel today as she and Tanya co-host Small Victories Sunday. If you'd like to share your post, click here for details.
Related Posts
About Author
Comments