So Many Books, So Little Time
photo credit:  Jody Hedlund via Dustjacketattic.blogspot.com
This is not my house, but a beautiful picture of my ideal reading space. Wouldn't it be awesome? Funny thing, my husband and I owned a house for seven years with floor to ceiling built-ins. We displayed our much-loved books and other treasures. But I don't think we actually spent much time reading in that room, because we had three babies in those seven years … reading was valued less than sleep. Ha!
I love books. I love to read them, acquire them, discuss at great length, stack them up, loan them to friends …
I need an intervention.
And apparently more time to read, because even though I don't have those built-in's anymore, my Kindle carousel is loaded.
I like to read several books simultaneously. I know. Weird. It depends on my objective for reading: escapism, encouragement, acquiring new information … Here's a list of fiction and non-fiction books on my Kindle right now. I've started all of them and hope to finish in the near future:
1. To Know You by Shannon Ethridge and Kathryn Mackel.  A powerful story of one woman's quest to find the daughters she gave up for adoption and ask them to consider donating their liver to save their dying half-brother. Incredibly well written, examines themes of love and loss, forgiveness and redemption from a Christian world view. Just finished it. One of the best books I've read this year. Incidentally, Shannon is giving away a $100 gift certificate to Lisa Leonard designs and a personal coaching session. Click here for details on how you can enter this fabulous giveaway.
2. Bread and Wine by Shauna Niequist. Everything about meal planning and preparation annoys me. I was told this book might change my perspective.  The first few pages are intriguing. I see it on a lot of people's shelves. I'm curious to know what other readers think.
3. Starry Night: A Christmas Novel by Debbie Macomber.  A fun read. I stayed up late reading this one. Love the cover.
4. The Husband's Secret by Liane Moriarty. This one is very popular and I can't wait to see what all the hype is about.
5. Picturing Perfect by Melissa Brown. One of the many things I love about owning a Kindle and having an Amazon Prime membership is the option to borrow one free book a month from the Kindle library. This is my selection for the month. The premise for the romance drew me right in, coupled with the great reviews and I was hooked.
6. A Million Little Ways: Uncover the Art You Were Made To Live by Emily P. Freeman. Every once in awhile you find a writer whose work makes your heart sing. Every word resonates so much that you feel like she lives in your house because the book speaks straight to your heart. That's my experience when I read Emily's blog, Chatting At The Sky. Her new release inspires me as a writer to keep writing. So, so good.
7. The Trouble With Mistletoe by Jennifer Snow. Harlequin has started releasing a line of romances described a 'heartwarming'. I'm working on a manuscript that's targeted for this line, so I read as many as I can to get an idea what they are looking for. The others I've read are very good and this looks to be a great holiday read, as well.
8. The Last Camellia by Sarah Jio. I'm sooo looking forward to Sarah's new release, Morning Glory, coming out next week.  Did you know an author of multiple books often has their current novel marked way down just prior to releasing their latest work? Such is the case with The Last Camellia. I really enjoy Sarah's work and can't wait to read both of these.
I could go on and on, but that's probably enough for today. In the interest of keeping it real, here's how our bookshelf looks right this minute. Children's books everywhere, all of the time. Since we love to read and emphasize the value of having books available,  the boys also  love to read and I'm grateful. Now if I left math flashcards and math worksheets all over the place, do you think it would have the same effect??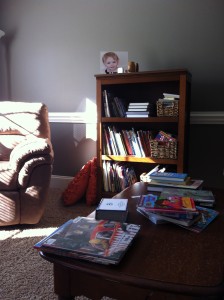 Thanks for stopping by.
I'm linking up with Anne at Modern Mrs. Darcy today. She has a fun link up about our bookshelves and/or their contents. Some great suggestions for books to read, funny anecdotes, etc. Click here to join the conversation.
I'm curious: what's on your bookshelves? Do you even buy 'real' books anymore? 
Related Posts
About Author
Comments