Once Upon A Prince: A Review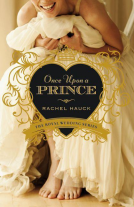 Once Upon A Prince :The Royal Wedding Series Book One
 By Rachel Hauck
 From the publisher: 
"Susanna Truitt never dreamed of a great romance or being treated like a princess—just to marry the man she has loved for twelve years. But life isn't going according to plan. When her high-school-sweetheart-turned-Marine-officer breaks up instead of proposing, Susanna scrambles to rebuild her life.
The last thing Prince Nathaniel expects to find on his American holiday to St. Simon's Island is the queen of his heart. A prince has duties, and his family's tense political situation has chosen his bride for him. When Prince Nathaniel comes to Susanna's aid under the fabled Lover's Oak, he is blindsided by love. Their lives are worlds apart. He's a royal prince. She's an ordinary girl. But everything changes when Susanna receives an invitation to Nathaniel's coronation. It's the ultimate choice. His kingdom or her heart? God's will or their own?"
My thoughts: 
Every time I read a book by Rachel Hauck I am impressed by her ability to bring us right into the story world and present wonderful, complex heroines that we can relate to as readers. This novel was no exception. I, too, watched Diana marry Charles many years ago and of course, watched the wedding of Kate and William with great interest. Who doesn't love an amazing fairy tale of a commoner falling in love with royalty?
I thought Susanna was a woman on a journey that resonates with many young women. When her own safe, secure plans fall through she spins her wheels for a while, trying to figure out why she devoted 12 years of her life to the wrong guy. She obviously thought she had it all under control. Her spiritual journey throughout the novel is well-paced and believable as she learns she must surrender and rely on the Lord for everything.
The relationship between Susanna and the hero of the novel, "Nate", was enjoyable.  A prince on a royal holiday visits St. Simons Island, GA and comes to the aid of a distraught young woman. Their easy banter and the chemistry that ignites between them is fantastic. I found myself rooting for them to find a way to be together throughout the whole novel.
The sub-plot about the royal families involved and the roles, expectations and customs that prevent royalty from marrying a commoner was believable and kept the plot moving forward. I thought the villain, Lady Genevieve was well done and added plenty of tension.
My only significant dislike is the role of Aurora. I think there is a trend even in inspirational fiction to include some sort of angel or other paranormal element and it was totally not needed in this story. The other minor characters were fleshed out so well, I just felt distracted by Aurora.
But don't let that stop you from picking up this wonderful novel. A light, feel-good romance about a fairy tale in real life…the perfect read for those lazy afternoons beside the pool or, better yet, at the beach.
I give it four out of five stars. Well done!
Wanna win a Kindle Fire? Rachel Hauck is hosting a Facebook party and giveaway on May 28th. Winner will be announced at the Once Upon a Prince Facebook Author Chat Party on May 28th. Connect with Rachel for an evening of book chat, wedding trivia, laughter, and more! Rachel will also be sharing a sneak peek at the next book in the series and giving away books and fun gift certificates throughout the evening.  Click here for more details.
Hurry! The giveaway ends May 27th.
I received a complimentary electronic copy of this book in exchange for my review. 
Related Posts
About Author