The Ten On Tuesdays: Tips for Disney First-Timers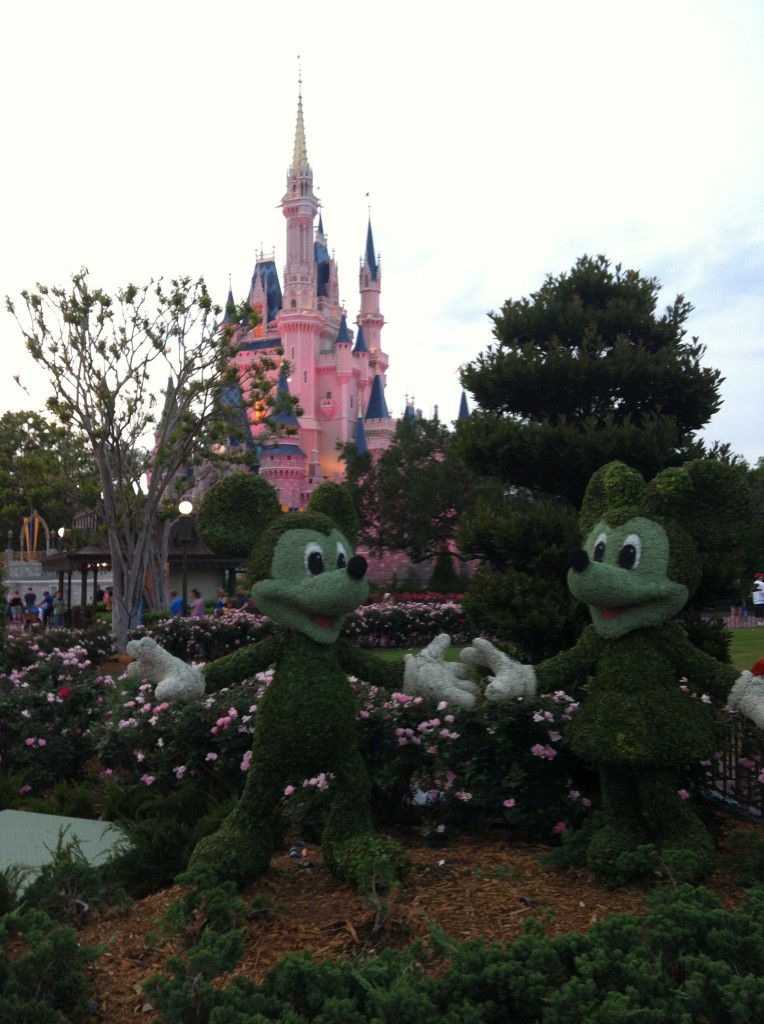 Prior to our trip, much research was conducted regarding everything from dining at Disney to formulating touring plans for each of the theme parks. By the way, how did we ever plan a family vacation without social media? There are many self-proclaimed experts out there who are more than happy to share their knowledge and experience.
Here are ten tips we tested and simply must share to make your first trip to Disney World more enjoyable.
1. Use Disney's Magical Express: This is a complimentary shuttle service between Disney owned resorts and the Orlando airport. It includes luggage delivery and airline check-in. We said goodbye to our luggage at our home airport and it was magically delivered to our hotel room. On the morning of check-out, our luggage tags were delivered to our room with our boarding passes. How awesome is that? I strongly recommend you pack your essentials in your carry-on because your luggage will arrive after you do. For example, it was pouring buckets when we arrived but we went to Animal Kingdom anyway and I'm so glad our ponchos were in our backpacks. To read the fine print about Magical Express, click here.
2. Crowd calendar: use 'em. I'm sure there are many, but I found this one  to be incredibly helpful. For every single day of the year, it lists the most and least recommended parks to visit based on predicted crowd levels. It also explains the underlying motivation behind the recommendations. So nice to visit the most recommended parks and wait less than 15 minutes at every attraction. It made our experience with three young children so much more enjoyable.
3. Obey the stroller parking signage: There are signs at every ride/show/restaurant indicating approved parking for your strollers. We "abandoned" our stroller outside the Monsters Inc. Laugh Floor and went in to enjoy the show. When we came out, our stroller was nowhere to be found. A cast member politely explained that all abandoned strollers were moved to approved parking and we had to go there to collect ours. Whatevs. Save yourself the trouble and play by the rules.
4. Proceed with caution regarding Disney dining: There are podcasts, blog posts and opinions galore, but overall we found the quick service dining plan to be a huge disappointment. With the exception of Wolfgang Puck in downtown Disney, where we got a ton of scrumptious food (don't miss the vanilla bean cheesecake) for our counter service credit, we found the food served elsewhere to be mediocre at best. Furthermore, the options for the kids meals were extremely limited.  If they ever eat carrot sticks or red grapes again, I'll be surprised.
5. Garden Grocer totally rocks: we had groceries delivered to our room so we could grab a quick breakfast. There is a minimum order requirement and a small delivery fee. The groceries were delivered right to our room and we didn't have to be there to receive the order.
6. Think twice about taking little ones to Wishes: Seeing the fireworks over the castle at Magic Kingdom was an absolute must-do for me. But the logistics involved nearly did us in and made the morning after quite painful. Our children have a pretty firm 8 o'clock bed time. They don't sleep in if they stay up late, either. So we chose the one night that Wishes was scheduled for 9pm. I think every other parent of young children had the same idea. The line of people waiting at the buses for Carribean Beach, Pop Century and Art of Animation was ridiculous. The fireworks were amazing but I'm not so sure it made the whining, crying and exhaustion worth it as we waited forever in that long line to get back to our resort.
7. Undercover Tourist App: I downloaded the free version and used it all week. The map helped our navigation within the parks go smoothly and the wait times listed for each attraction helped us choose what we would do next.
8. See Mickey at the Character Spot: if you want a short line in an air conditioned waiting area, the Character Spot at Epcot is the place to see Mickey. The Photopass photographers also had assistants with them who were more than willing to take pictures with your personal camera, as well.
9. Take a picture of your Photopass card: Someone offered this tip on another blog post and I have to say it totally saved me from utter despair. Take a picture of the back of your Photopass card with your camera phone or digital camera as soon as you receive the card. Right after we had our picture taken in front of the castle, I lost my Photopass card. I took my phone with the picture of the lost card to the Photopass kiosk (there's one near the entrance to every park) and they pulled up our pictures from the lost card and loaded them onto a new card. Whoot! I heart technology.
10. Got a Fastpass? Use it wisely: in other words, if you get a Fastpass, go and do something valuable with your wait. If time equals money at Disney, then standing around waiting until your Fastpass return time comes up is rather foolish. Our family loved Big Thunder Mountain at Magic kingdom so we made a second trip to the park specifically to ride it again on our last day. The wait was forty minutes so we grabbed 5 Fastpasses and then struggled to find something to do while we passed the time. Our kids were easily entertained watching the riders on Splash Mountain and it was heavenly to walk right on Big Thunder, but I'm not sure we made the best use of our time. We just found a less painful way to wait.
Those are my can't-miss recommendations for easing the logistical stress of your first trip to Disney.
How about you? Any lessons learned on your first trip? 
Related Posts
About Author