A League of Her Own + a Giveaway

Karen Rock's new novel, A League of Her Own, is her latest release from Harlequin Heartwarming, a line of wholesome, tender romances. The blog tour for A League of Her of Own wraps up this weekend. Be sure to enter the tour-wide giveaway for a chance to win paperback copies of FOUR of Karen's novels in the Heartwarming line (including A League of Her Own), as well as an Amazon gift card. The Rafflecopter at the end of this post has all the details. Thank you, Lola's Blog Tours, for including me in the tour.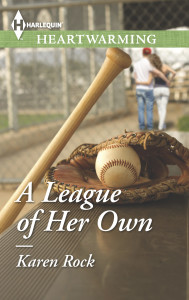 A League of Her Own
By Karen Rock
Genre: Contemporary Romance
Age category: Adult
Release Date: December 1, 2014
Book Blurb:
He was attractive, talented … and way off-limits.
Heather Gadway may have been a world-class college pitcher and a top university coach, but she's a rank amateur when it comes to managing the Falcons, her father's struggling minor-league team. And when it comes to managing her aggravating attraction, Garrett Wolf, their talented new pitcher. It's going to be difficult enough to make it as the first female manager in the league and prove to her overly critical father she's worthy. No distractions. No missteps. And certainly no romances with players. Everything stands between them–including their troubled pasts–even as Heather's world falls apart and Garrett's the one who's there to catch her…
My review:
I've really enjoyed reading the Heartwarming line because the romance plays center stage, yet it's tender and allows the complex themes of the story to carry the tension. Garrett and Heather's issues are gritty, realistic and do not have simple solutions. I love baseball and a good sports romance and Karen did a fabulous job of writing a novel that made us feel like we were on the field and a part of the struggling Falcons team, without overwhelming the reader with the statistics and details that often come with a novel about baseball. So even if baseball isn't your favorite sport, you'll enjoy this novel because it is really about two people struggling with their difficult pasts (addiction, rejection, feeling unworthy, regret … just to name a few). Garrett dreamed of a successful professional baseball career in the Major Leagues, partly to honor the memory of his deceased friend, Manny. But no matter how hard he tries, he can't seem to move beyond the minor leagues and his attraction toward Heather, his team manager, only grows stronger with each passing day.
Heather wants to succeed as a manager of her father's losing minor league baseball team, but her actions are never good enough for him. She tries to behave professionally and ignore her romantic feelings toward Garrett, but he is often the one to rescue her when life becomes difficult. Garrett is also a recovering addict, which becomes another stumbling block for Heather and fuels her distrust of him. Although Garrett tries to demonstrate that he's changed, Heather's fear of getting hurt again keeps her from choosing to love him.
No spoilers here, so I won't reveal the conclusion of the novel. But I will say the author delivers a satisfactory conclusion to a very enjoyable read. It made me think a lot about how obstacles in relationships keep us from the joy that could be ours if we would only forgive, accept our past mistakes as learning experiences, and move forward.
Great job, Karen! I'm looking forward to reading your next novel.
Read an Excerpt of A League of Her Own:
Heather flushed, remembering how she'd warned him that she could never trust him or any addict. Had pushed him away when he'd kissed her. So why, then, was she telling him things she hadn't even shared with her father?
"How many times did you go to rehab?" she asked.
"Once."
"How long were you an alcoholic before that?"
"Five years. I was twenty-one when Manny got shot."
Heather stiffened in his arms, realization spiking through her. He'd turned to alcohol because of Manny.
"You drank so you wouldn't think about it."
"Basically." She felt his head nod against hers. "And, after a while, because I had to."
"And now you're never tempted." She tried keeping the skepticism out of her voice and failed.
"I'd be lying if I said I wasn't. But I'm committed." He lifted his head, tipped up her chin and looked her directly in the eye. "I can only promise one day at a time. But I'll keep that vow. Continue renewing it. I want more out of life than a bottle."
Heather reached up and touched the sides of his face, unable to stop her impulsive action. It was sending him mixed messages, the same ones she felt.
"What else do you want?" The question came from a part of her she didn't recognize. Asking a man like Garrett a flirtatious question was playing with fire.
Garrett groaned, longing sharpening his features. "You."
Without waiting for her response, his lips captured hers. She knew she should push him away, but instead her head fell back, her pulse leaping in her throat. The pressure was exquisite as he nibbled and explored. Soft. Warm. Gentle. His lips moved slowly, gradually exerting more pressure.
This felt incredible. Better than the last time. She had to stop this, but need seized her, shoving aside her good intentions.
Her body hummed and a fuzzy sensation filled her head, making it hard to focus on anything but the feel of him, the evergreen scent of the forest and his aftershave heightening her senses.
His hands gripped her waist as she swayed against him, holding her as his mouth sampled her lower lip, then put pressure on the top. Nerves sent small shock waves through her chest, and her hand rose to stroke the back of his neck, making him tremble against her.
Suddenly his kiss intensified, growing fierce and demanding. His lips moved fast against hers, their tongues tangling, causing warmth to explode in her body, melting every piece of her.
She moaned and Garrett's arms tightened, bringing her closer still. Her lips maneuvered against his in response, loving his sweet taste. Garrett shuddered, curling his fist into her hair with a groan. She loved how her touch affected him, how it affected her.
At last his lips let her go, and he looked down at her tenderly, pleasure in his eyes, his chest rising and falling hard.
"I wasn't getting involved with anyone. Planned to focus only on baseball," he said when his breath came easier. "But I can't stay away from you. You follow me, even in my sleep. Your eyes." He kissed each lid. "Your smile." He pressed his lips to each corner. "These freckles." His warm mouth brushed her cheeks.
Her chest expanded, taking in his beautiful words. This incredible moment. And then it hit her, reality a cold shower.
She opened her eyes and scooted away. "Garrett. I don't know."
His eyes moved out over the falls, tracking the sprays of water as they hit the jutting rocks and tumbled to earth. "You don't trust me."
Her mouth opened and closed. He was right. While he touched a chord inside that'd never sounded for anyone else, she still couldn't put her heart in harm's way again. And she knew without a doubt that if Garrett let her down, he'd devastate her as much as her mother had. Even more. She'd loved and lost too many times to try again, especially with her father gone so recently.
"I'm sorry," she said inadequately as he stood and helped her to her feet.
His blank expression gave little away. She wondered if, deep down, a part of him was relieved they weren't taking things further. He'd said he hadn't wanted distractions. And now she wouldn't be one.
"I can't make you believe in me, Heather." His voice was steady and strong. "I need someone who'll give me a chance to earn her trust."
She crossed her arms and looked down at the falls, speaking from her heart. "You could be sober a hundred years and I'd still be waiting for the one day you slipped."
Air escaped him. "I've never had a drink as long as you've known me. Put you in danger."
"It doesn't matter. I'm sorry."
"Me too," he said as they wandered back to the path. "But better to be up front now. So…this is for the best."
She wasn't sure if it was pride talking, or she'd convinced him that they were wrong for each other. Either way, incongruously, she felt let down. Had she wanted him to push it harder? Make her change her mind? If he had, she'd only have distanced herself more. No. He'd made the right call.
Only it felt completely and absolutely wrong.
You can find A League of Her Own on Goodreads.
A League of Her Own is available for purchase from the following retailers:
– Amazon (Kindle)
– Barnes & Noble
– Kobo
– eHarlequin
About the Author:
Karen Rock is an award-winning YA and adult contemporary romance author. She holds a master's degree in English and worked as an ELA instructor before becoming a full-time writer. Currently she writes for Harlequin Heartwarming and her first novel for the line, WISH ME TOMORROW, has won the 2014 Gayle Wilson Award of Excellence, the 2014 Golden Quill Contest and a finalist in the Published Maggie Awards. The first novel in her co-authored YA series, CAMP BOYFRIEND, has been a finalist in the Booksellers Best and Golden Leaf awards.
You can find and connect with Karen here:
– Website
– Facebook
– Twitter
– Goodreads
– Tumblr
– Quarterly Newsletter
There is a tour wide giveaway for the blog tour of A League of Her Own. These are the prizes you can win:
– a 100$ Amazon gift card (INT)
– a set of signed paperback of Wish Me Tomorrow, His Hometown Girl, Someone Like You and A League of Her Own (US only)

For a chance to win, enter the rafflecopter below:
a Rafflecopter giveaway

Related Posts
About Author
Comments