One Word 2018 | Anctipate
We're careening into the final hours of 2017. I suppose every year has it's highs and lows, and when we self-reflect, our analysis is a matter of perspective. This year, though. Wowza. Quite frankly, I'm not sorry to see it go. Personally, professionally, culturally…it's been a doozy. I'm super excited to wake up to a new year tomorrow, and I find it only fitting that my One Word for 2018 is…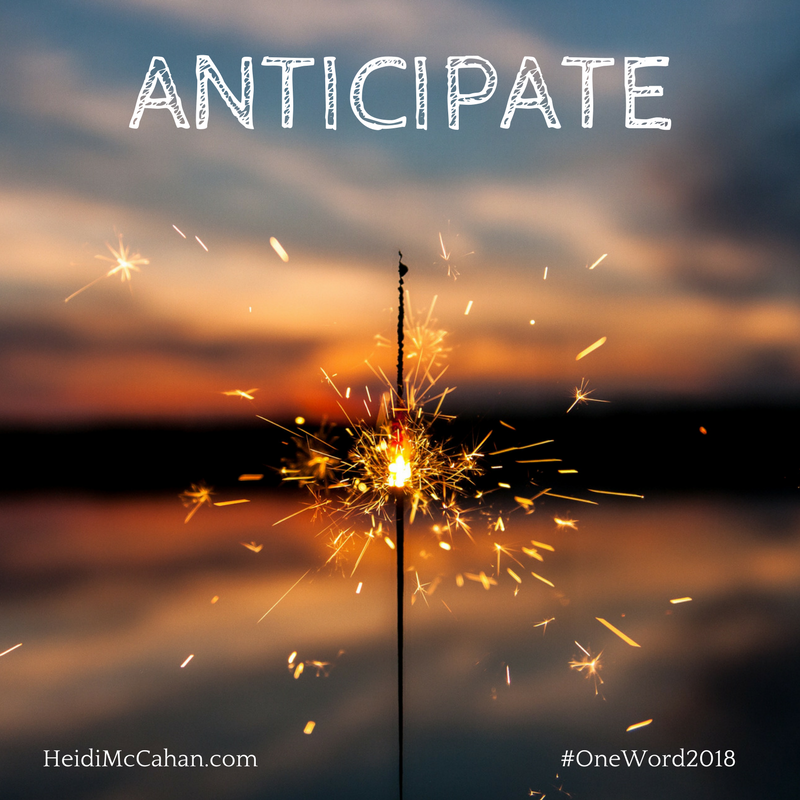 The Merriam-Webster dictionary defines anticipate as 'to look forward to as certain'. Though I'm weary and white-knuckled today, tomorrow I will awake with the excitement and anticipation that the blank slate of a new year offers.
I anticipate that God will carry us through both triumphs and trials, just as He has all the days of my life up until now.
After many months of revising and waiting, I anticipate holding my first published Love Inspired novel in my hands, and launching it into the world. I anticipate sending the middle child to middle school, and our first born to high school. I anticipate, Lord willing, receiving additional publishing contracts for the manuscripts that are on editors' desks right now. More importantly, I anticipate using the gifts God has given me to create more stories that impact readers.
I anticipate the courage and wisdom to support our parents as they navigate the world of senior living. I anticipate making more memories and celebrating special occasions with our families and friends.
No matter what we've endured, I am confident that God will remain faithful to us. Because He is a good, good Father who never withholds His best from His children. While the timing and the circumstances often do not suit, I've also learned this year that my perspective is rather myopic and motivated by a deep-rooted (and stubborn) desire to try and orchestrate life to suit me. In 2018, I anticipate relying on His guidance because 2017 taught me that apart from Him I am nothing.
As 2017 comes to a close, I continue to look to my favorite verses from Isaiah 43 for hope and encouragement. Whether you're reading them for the first time, or the 100th time, my intention is that these words will be a blessing to you, as well.
"Remember not the former things,
    nor consider the things of old.
Behold, I am doing a new thing;
    now it springs forth, do you not perceive it?
I will make a way in the wilderness
    and rivers in the desert."
If you've chosen One Word for 2018, I'd love to hear it. Feel free to share in the comments or find me on social media.
Happy New Year, friends!
Related Posts
About Author