Guess What? Love Flies In is Free All Weekend. Tell Your Friends.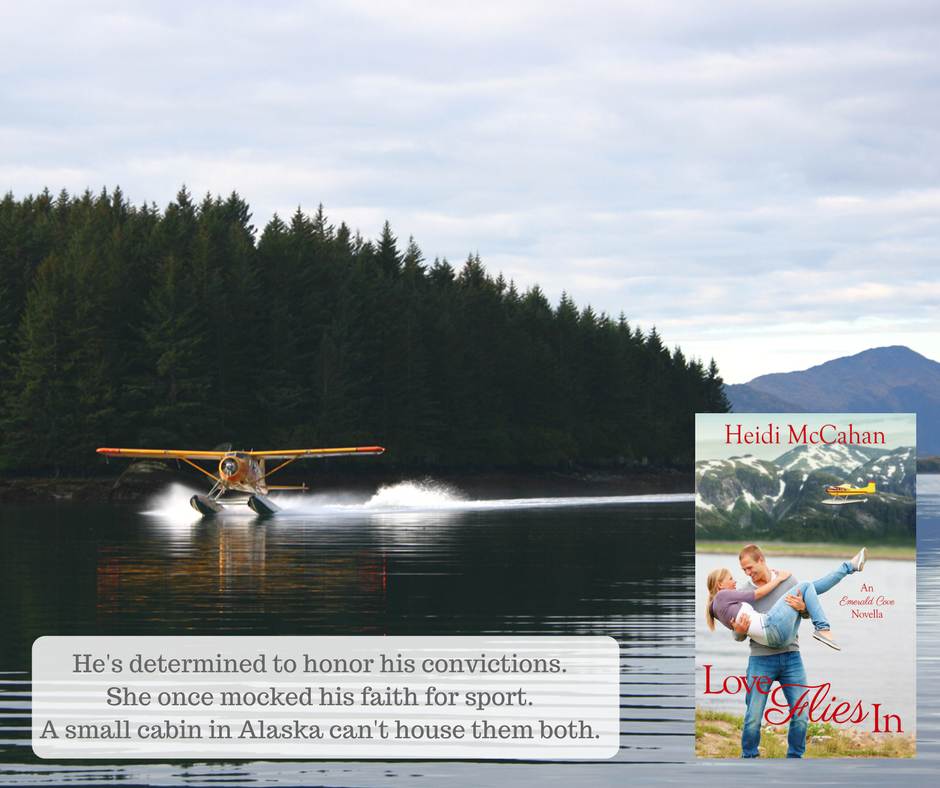 Love Flies In, originally released in the summer of 2015, is FREE all weekend. Whoop! Whoop!
Part of the brainstorming and creative process for me involves making up a past for the characters, which influences their actions on the pages of the story. As my writing has improved and I've finished more manuscripts, my creative process has shifted, so my 'interviews' with my fictional friends have evolved a bit. But these character interviews are still an essential component because they help me craft a novel with believable characters and provide the reading audience with a little taste of what's to come in the story line.
Here's a mini Q & A with Chase Binford, the novella's hero. Enjoy!
Name: Chase Binford
Where are you from? I'm originally from Anchorage, Alaska but I'm planning to relocate to Emerald Cove, Alaska. My cousin is selling his cabin there and I'd love to buy it. We spent a lot of time there when I was growing up and it's the perfect location to settle down and hopefully raise a family.
Occupation: Seaplane pilot
Ambition in life: My best friend and I are launching a charter flight service in Emerald Cove. We offer whale-spotting trips, sightseeing tours of the most beautiful coastline in the world and charter service to remote locations.
Best thing that's happened to you: growing up in a loving family and becoming a pilot.
Worst thing that's happened to you: My brother and I tried a short stint on the mission field. It wasn't anything like I expected and I ended up coming home.
Earliest childhood memory: walking beside the lake in Anchorage with my parents and watching the seaplanes take off.
Favorite quote or verse: I have too many favorites to pick one. I don't like to fail. At all. Since I'm trying to start something new right now, I'm focused on a verse from the book of Isaiah. 'See I am doing a new thing! Now it springs up; do you not perceive it? I am making a way in the wilderness and streams in the wasteland.' (Isaiah 43:19 NIV)
What makes you laugh? A good clean joke … Occasionally Will Ferrell movies … Tisha McDowell's witty banter.
Back Cover blurb: Southern belle turned sea kayaking guide Tisha McDowell is determined to buy her friends' lakeside cabin and make Emerald Cove, Alaska her permanent home. Until sea plane pilot, Chase Binford, sets his sights on the same cabin. Now the race is on. She has a history of mocking his beliefs. He knows the heartache of falling for an unbeliever.
Will the woman who ridiculed his faith finally win his heart?
Thanks for stopping by, friends. I hope you love Chase and Tisha's story. You'll see Tisha and Cami again, by the way. Harlequin Love Inspired will release The Farmer's Daughter in 2018, which is set in North Carolina and features one of Tisha and Cami's older sisters, Natalie. Stay tuned for more details as that story moves closer to production.
For now, you can download Love Flies In here. It's free until May 22nd. If you have a Kindle Unlimited subscription, it's available there, as well.
Happy weekend!
Related Posts
About Author