31 Days of Five Minute Free Writes | Wardrobe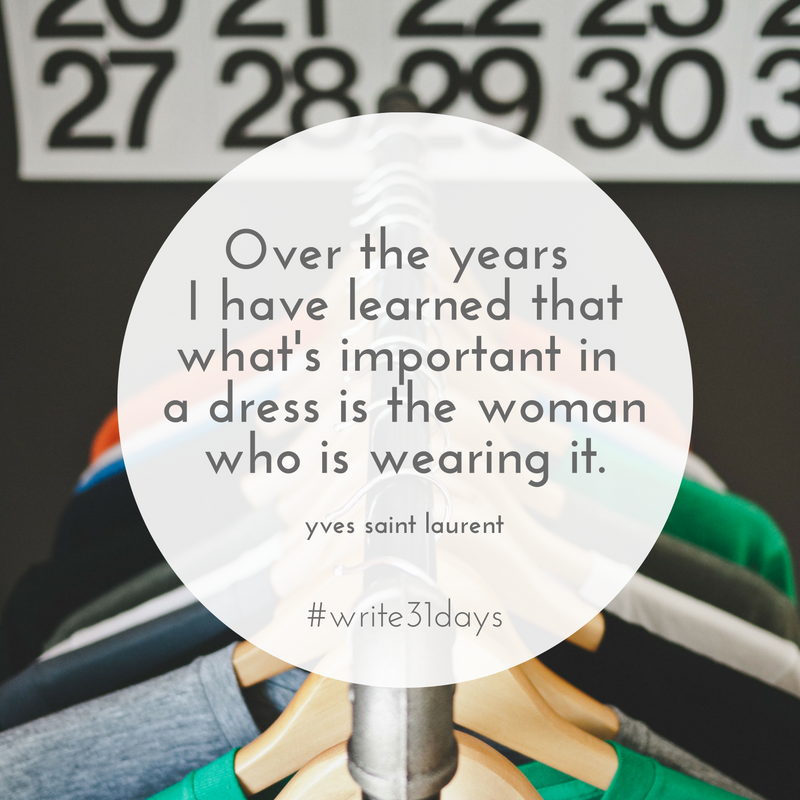 The state of my closet is enough to drive me to tears. It's populated with things I'm sick of. Which just screams first world problems, I suppose. Or maybe I'm just embarrassed that a third of the clothes I've purchased, I've never worn.
I want to be fashionable, yet detest trying to keep up with current trends. I used to love shopping. Now I leave the store completely disgusted by the prices and poor quality. I love to buy shoes, but can't match a pair of shoes with my outfit to save my life and constantly ask my husband, "Does this go together?"
Bright colors and interesting prints? Yes, please. Can someone else pair them together for me? I've tried the subscription service of clothing delivered to the door once a month. No, thanks. Again with the hideous quality and high prices.
This year I gave up on fashion and mostly grabbed a T-shirt, my favorite denim shorts, some flip-flops and call it good. In the fall and winter, it's jeans, a sweater and boots. On Sunday mornings, I choose one of my five 'nice outfits' for church.
Say what you will about Mr. Zuckerberg or the late Steve Jobs about their decision to wear the same thing every single day, but I think they might be on to something.
Don't even get me started on this ath-leisure wear movement. Seriously? High-end, overpriced fitness gear worn all day to give the impression of working out, yet we all know that outfit will never see the light of the gym. I love yoga pants and a long T-shirt as much as the next girl, but that's not an outfit, friends. And in case you haven't heard, leggings are not meant to be worn like jeans, regardless of how many times clever marketing gurus mention the word 'jeggings'.
I'm intrigued by the concept of a capsule wardrobe. I did a little research on the concept (trolled Pinterest for half a day). Fifty-seven pins later, I'm completely overwhelmed and I have no idea what's supposed to go in my 'capsule'.
I think Ms. Saint Laurent had it right. Maybe it doesn't really matter and we as a culture have completely lost our minds when it comes to fashion.
{true confession: this took way longer than 5 minutes to write}
photo credit: Jeff Sheldon via Unsplash
Related Posts
About Author
Comments