31 Days of Five Minute Free Writes: October 2016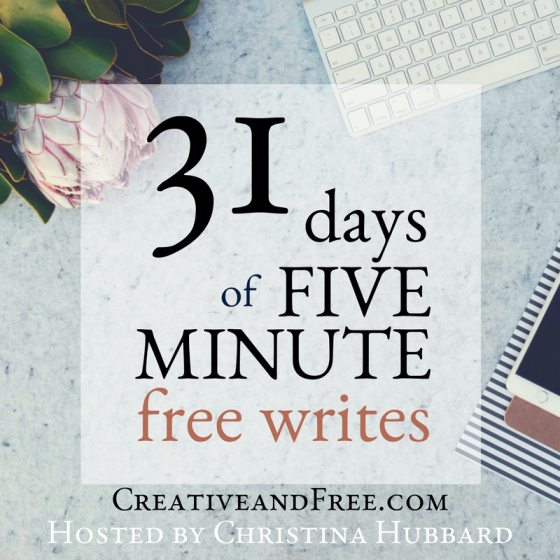 Let the games begin! Every October, the Write 31 Days challenge gives anyone with a blog the opportunity to post every day for the entire month of October. The Five Minute Friday community is hosting a challenge within the challenge, prompting writers with a particular word for each day of the month. Each daily post is focused on free writing for 5 minutes on … you guessed it, the daily prompt. Easy peasy, right?
Curious?
Here is a lovely graphic with the prompts for the month, with the exception of Friday. Just to make it extra fun, those prompts will be announced on Thursday evening.
Write 31 Days allows bloggers to link their blog posts up with hundreds of other participants, all discussing a wide variety of topics all month long. This is a great opportunity to build community with other writers/bloggers/creative souls, learn quick tips for home decorating, dive deeper into a favorite topic or get inspired to try something new. The opportunities are limitless with this challenge and very rewarding, as well.
Want to join us? Everything you need to know for participating in the Write 31 Days challenge can be found here. The link opens on October 1 and closes October 5.
If you'd like to join 31 Days of Five Minute Free Writes, please click here. The link up for this challenge opens at 7pm CST on Friday September 30th.
Happy October, friends!
Related Posts
About Author
Comments