Five Minute Friday: Listen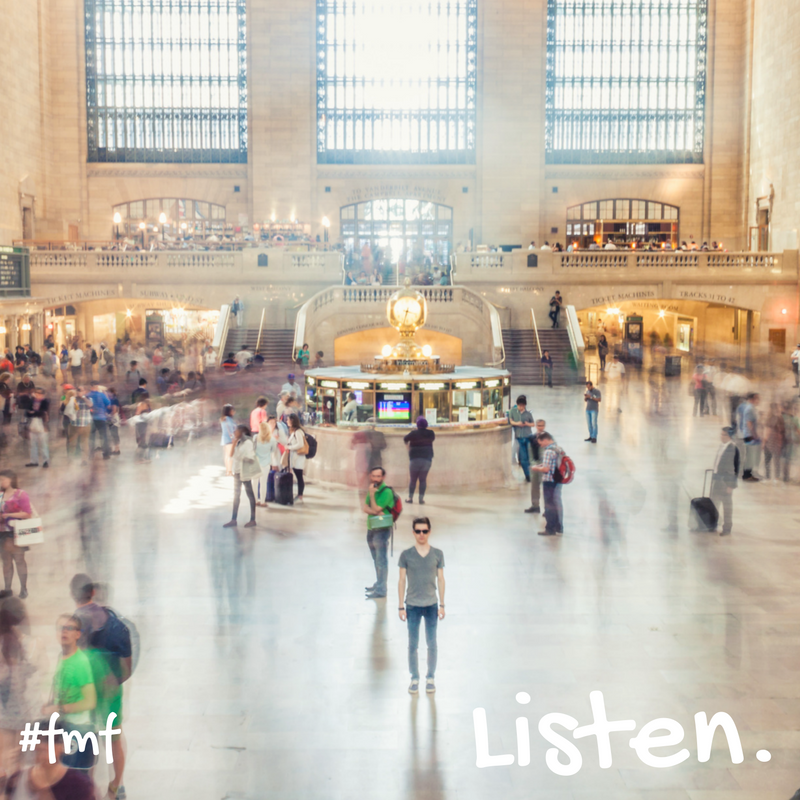 This world is crazy loud, isn't it?
I feel like I'm losing the ability to listen well. Or maybe I should say the art listening well. Because it is an art form. A gift to our audience. A well-honed ability to put aside our own agendas and endless to-do lists and status updates to hear what our child, our friend, our spouse is really saying.
Most days I feel like the guy in this photo: the sensory input is truly overwhelming. Podcasts, political ads everywhere I look, my favorite morning drive-time radio show, the top 30 country countdown I listen to faithfully every weekend. Here's the thing that troubles me most: I've crammed all of that noise into my world and now I'm aggravated that it's so stinkin' loud in here.
Recently I've delved into the world of audiobooks. Not just because I'm an author and that's an audience I want to reach, but because I want to learn to hear a story again. To truly get lost in it and experience the journey of the characters like I once did as a child who listened while my grownups read to me.
Do you know how hard it is to train your brain to listen well? It's painful. I want to fold a load of laundry, color a picture, check my email, send a text … all while the narrator is presenting a chapter. It's crazy how addicted I am to doing seventeen things at once.
Yesterday two of our three kids had written stories they desperately wanted to share with us RIGHT when they got home from school. I wanted to unpack the remnants from their lunchboxes, put the folded laundry away, remind them to start their homework…but a tiny voice inside me whispered, "This is important. Right now."
Guess what? My budding storytellers had crafted two wonderful pieces. One son stayed up past his bedtime writing his last paragraph just so he could read it to me.
And I listened. Sat right there on the floor in his bedroom and savored every word. It's a great story. I think he's on to something. So grateful he wanted to share it with me.
It's Five Minute Friday time once again. If you have a post you'd like to share about today's prompt LISTEN you can link up here.
In just two short weeks, October will be here. Do you know what that means? 31 Days of Five Minute Free Writes kicks off for the third straight year. Consider this your invitation to join this amazing community for a solid month of writing, making new friends, and reading wonderful posts. Curious? More details here + an opportunity to do a trial run post this Tuesday, 9/20. C'mon. Do it. You'll love every minute, I promise.
Photo credit: Thomas Lefebvre via Unsplash
Related Posts
About Author
Comments