Happy Book Birthday to Beth K. Vogt's Almost Like Being in Love
Today award-winning author Beth K. Vogt releases the next novel in her destination wedding series, Almost Like Being in Love. It's a great read and the perfect book to take with you to the beach or enjoy while relaxing by the pool or lake. For those of us in the states anticipating a long holiday weekend with ample opportunity to read, I highly recommend adding this one to your to-be-read pile.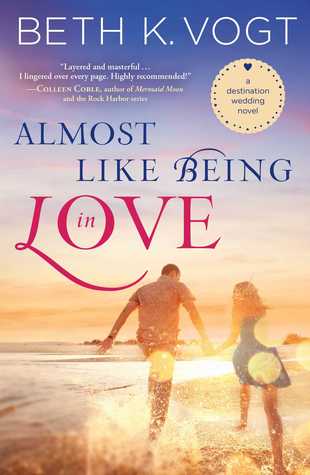 Back cover blurb:
She's won a luxurious dream wedding–now all she needs is a groom!
Winning an all-expenses paid destination wedding in Colorado might seem like a dream come true for some people–but Caron Hollister and her boyfriend Alex Madison aren't even engaged. How is she supposed to tell him that she's won their wedding and honeymoon when he hasn't asked her to marry him? And while everyone says they're perfect for each other, how strong is a relationship when it's built around protecting secrets?
Realtor Kade Webster's business savvy just secured his company's participation in the Springs Tour of Homes. He never imagined he'd run into Caron Hollister–the woman who broke his heart–right when Webster Select Realty is taking off. When Kade learns his home stager won't be able to help him with the Tour of Homes, he vaults past all the reasons he should avoid Caron, and offers her a temporary job helping him on the project. This time, their relationship is purely business–Realtor to Realtor.
Spending time with Kade again has Caron questioning who she is and what she wants. The man intrigues her–at times infuriates her–and reminds her of what she walked away from. Has she been settling for what everyone expects of her? How can Caron say "I do" to one man when she's wondering "what if" about another?
My review:
There is so much to love about this novel. Almost Like Being in Love is a satisfying read involving a second-chance romance (one of my most favorite tropes) as well as a nuanced plot that examines the deeper issues of addiction, co-dependency, and the heroine's struggle with gaining her father's approval. This is heavy stuff and the author approaches each of these issues from a Christian worldview, offering fans of this genre a hope-filled message which both inspires and reminds us of God's love. I tried to pace myself and savor each chapter, but ended up devouring the whole novel in one weekend. I look forward to more from this talented author. Many thanks to the publisher and the author for a complimentary paperback copy in exchange for an honest review. All opinions stated here are my own.
Readers can connect with Beth via her website as well as Facebook, Twitter and Instagram. Promotion for Almost Like Being in Love continues throughout July, so watch social media for more opportunities to connect with the author. Of course, grab a copy of this fabulous novel at your favorite retailer.
Related Posts
About Author