10 Great Reads for the Often Vigilant Mama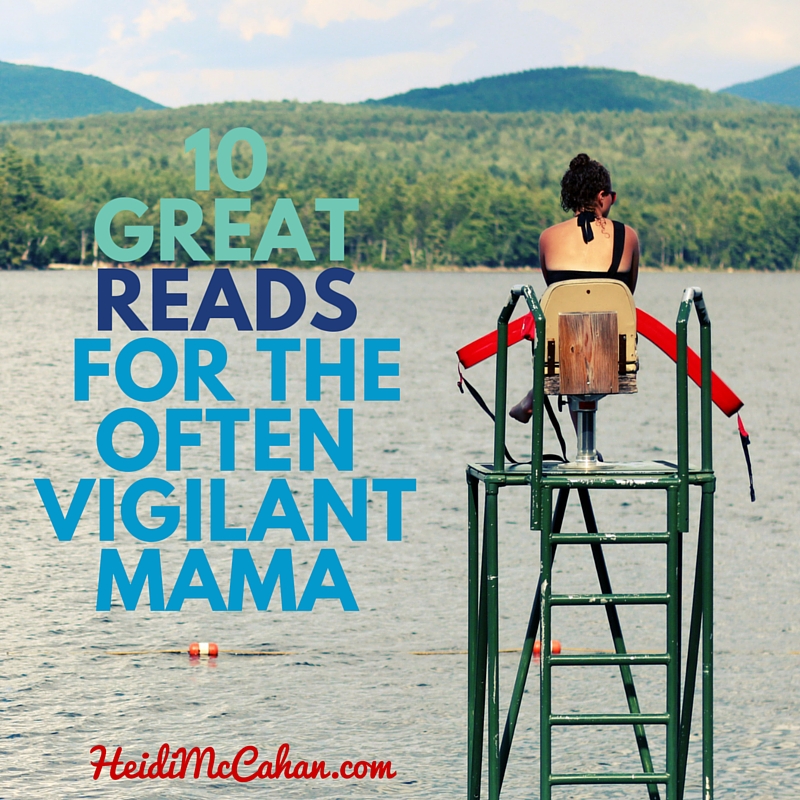 It's that time of year when bookworms everywhere roll out their summer reading list. Woot! I'm linking up with the ladies at Broke and Bookish and their annual 'Ten Books We Plan to Put in Our Beach Bag' blog post.
Let's be honest. In my world, very little reading gets done at the beach or beside the swimming pool. Our kids just aren't self-sufficient near the water yet. I'll spend approximately seven days at the beach this summer. Maybe eleven if I'm lucky. Our kids will be in school for eight of the next twelve weeks, which means our weekends and evenings will probably be spent at the local pool. I do not have a nanny or a mother's helper. (Virtual high fives and fist bumps if you do, though. No judgement here). I do, however, have one fabulous husband who shares my love for reading. He also does more than his fair share of the parenting when we are at the beach or pool, which makes me feel guilty for sitting and reading when he's doing all the work.
See? I'm wrestling with some serious first-world problems here.
My point is, there are about forty-eight books I'd like to read this summer. Realistically, I'll probably tackle eight of the titles on the following list, reading late at night and when I'm in the school carpool line.
But logistics never stopped me from making a list. I've been a mother for twelve years now and I still like to pretend that this might be the year that I will get to read a book at the pool or the beach. Somehow I always succumb to the requests of "Hey, Mom, watch this!"
If you spend most of your summer staring longlingly at that unopened book in your pool or beach bag while you watch your kids splash in the surf or perform that amazing dive or underwater handstand or demand that you  throw those pool rings for retrieval aprroximately 233545 times … this list of novels might be for you, often vigilant mama.
I think you'll enjoy these compelling, well-written novels that will keep you turning those pages … even if you only manage to read a couple paragraphs at a time.
Perennial Favorites: authors who almost always have a summer release that I eagerly anticipate reading each year
Inspirational Romance & Women's Fiction: my favorite genre and this summer has several great new releases
New-to-Me Authors: titles recommended by other voracious readers
There you have it. My summer reading list. I hope you enjoy a few minutes of peace and solitude this summer. If you have a chance to read any of these novels, leave a comment here and let me know what you think. Happy reading and pass the sunscreen. 🙂
photo credit: Autumn Mott via Unsplash
Related Posts
About Author