Top 10 Swoon-worthy Quotes from Books + Movies
In honor of Valentine's Day, the ladies over at The Broke and the Bookish are hosting a Valentine's-themed Top Ten Tuesday. Too fun to pass up. I'm sharing my top 10 swoon-worthy quotes from books and movies, because I'm a contemporary romance author and also, hello, #NottingHill.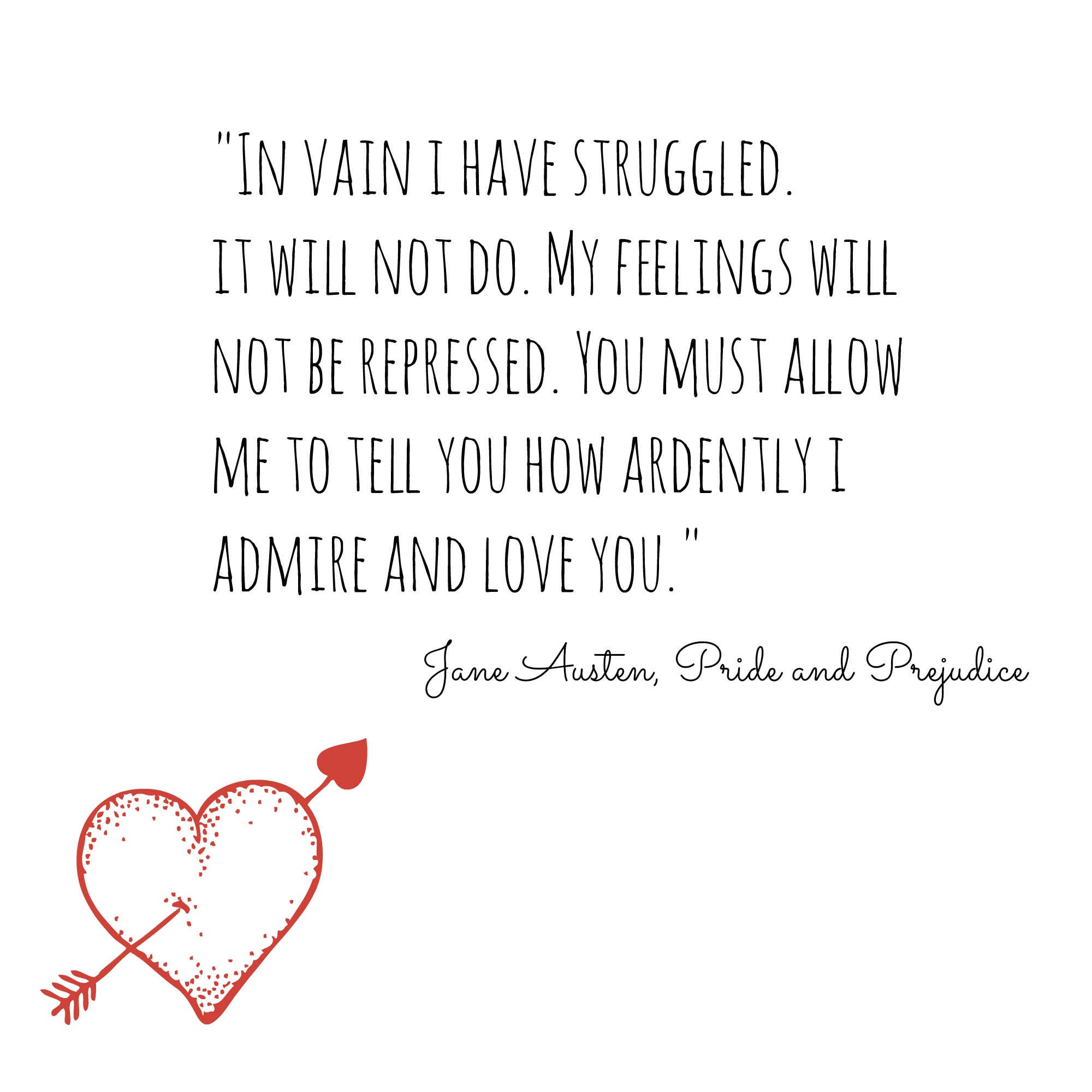 I love these lines from one of the all-time great novels in the history of the world. (Yes, I love Pride and Prejudice that much). Well done, Miss Jane!
I really, really, really did not want to read The Portrait of a Lady by Henry James in college. Sorry, Dr. Bloxham, but I must speak the truth. Henry and I, we just aren't on the same wavelength. But this quote. Oh my. Is it not the essence of what it means to truly love another?  "It has made me better, loving you. It has made me wiser, and easier, and brighter. I used to want a great many things before, and to be angry that I did not have them … Now I really am satisfied, because I can't think of anything better."
Another novel on my list of please-don't-make-me-read-this: George Eliot's Adam Bede. Again, my apologies to Dr. Bloxham for whining. George Eliot's work taught me so much about literature. I suppose I'm a better reader and author for tackling these challenging novels. This quote was pinned on my bulletin board and scribbled in my journal numerous times. Such a beautiful word picture.
"I wanted it to be you. I wanted it to be you so badly." -Kathleen Kelly (Meg Ryan), You've Got Mail. Then Joe Fox says, "Don't cry, Shop girl…"  Swoon! I could watch that movie a million times.
"…I love her and it is the beginning of everything." -F. Scott Fitzgerald
The chemistry between Hugh Grant and Julia Roberts in Notting Hill was phenomenal. The dialog, quirky cast, tension within the scenes … they just don't make rom-coms like this anymore.
"When each partner loves so completely that he has forgotten to ask himself whether or not he is loved in return; when he only knows that he loves and is moving to its music–then, and then only are two people able to dance perfectly in tune to the same rhythm." -Anne Morrow Lindbergh, Gift from the Sea
"I wish you to know that you have been the last dream of my soul." -Charles Dickens, A Tale of Two Cities
"When I met my wife, it was so clear. I just knew. I knew it the very first time I touched her. It was like coming home, only to no home I'd ever known. I was just taking her hand to help her out of a cab. And it was like… magic." -Sam (Tom Hanks), Sleepless in Seattle
I haven't read The History of Love, but I discovered this quote and thought it was totes adorbs. 
That's all, friends! Thanks for stopping by. If you'd like to share your own list of romantic literary quotes or any other Valentine-themed bookish post, click on over here and link up.
Related Posts
About Author
Comments