Ten On Tuesday: 10 Books I Plan to Have in my Beach Bag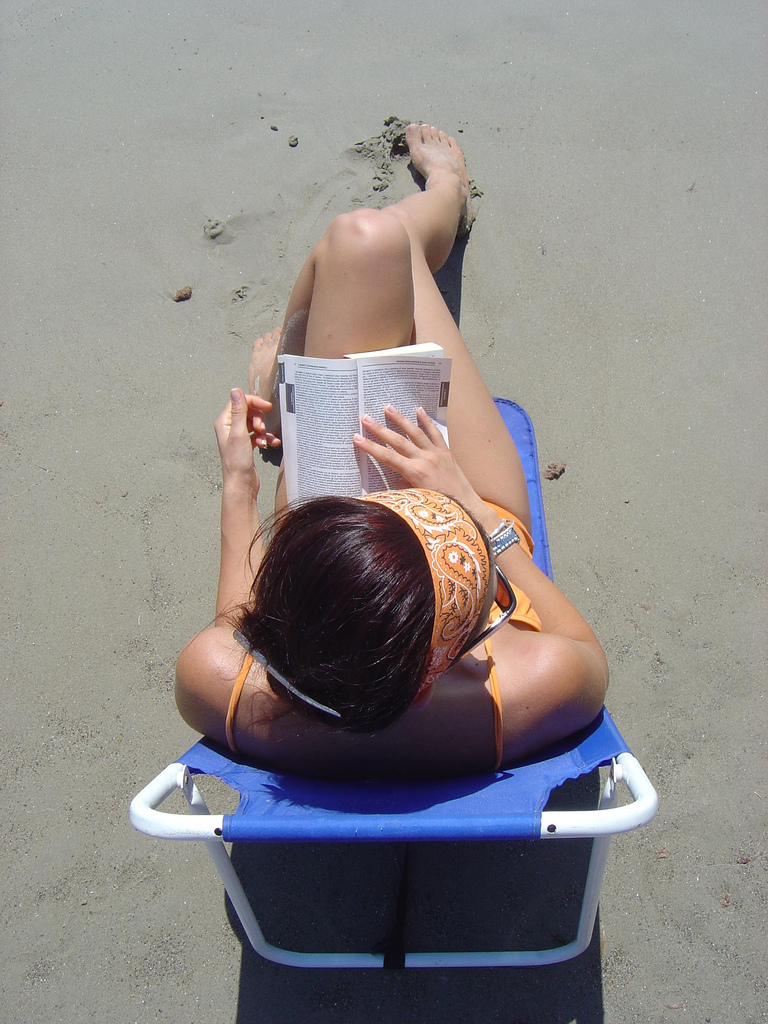 We hit the pool this weekend. Sunscreen application has commenced. That equals summer as far as I'm concerned. Every year we plan our beach trip and every year I wonder if this will be the summer I actually sit in a chair under an umbrella and read a real book while the waves lap at my toes. And someone else watches my children frolic in the surf. I'm thinking I haven't quite arrived at that season of life yet. Which is totally okay. But I'll still drag a stack of books to the beach (or overload my e-reader) for a week. In reality, it will take me until Halloween to read ten books. But a girl can dream … Here's my list of 10 books I plan to pack and potentially read.
1. The Sound of Glass by Karen White: I look forward to her new release every year. I'm quite smitten with this book cover. Hello, if ocean glass is involved it must be a page-turner, right? Right. The premise and the setting have captured my attention, too. Can't wait.
2. The Wonder of You by Susan May Warren: Book 5 in the Christiansen Family Series releases July 1. I've thoroughly enjoyed the first four in the series and eagerly anticipate this one, as well. I haven't had the pleasure of meeting Susan May Warren yet, but I hope to someday. She's a giant in the industry and I really admire her work.
3. Paper Towns by John Green: I saw the movie trailer yesterday and now I desperately want to read the book. If I weren't battling a serious writing deadline, I would've started this one already.
4. The Precious One by Marisa de los Santos:  this author's work is magical, alluring, beauty packed into the prose of every line. I'm so excited she has a new release this spring because I can't get enough of her writing.
5. At the Water's Edge by Sara Gruen: loved Water for Elephants and I'm intrigued by this new novel. Reviews are very mixed but I'm going to give it a chance, anyway.
6. Big Little Lies by Liane Moriarty: I've started this a couple of times and then the library virtually snatched it back. It's the August book club pick, so I suppose third time's a charm and I'll finish it.
7. Crazy Little Thing Called Love by Beth Vogt: this novel kicks off Beth's destination wedding series and I'm excited to read it. Her novella she just released gave readers a little taste of what's to come and I think it's going to be a fantastic read.
8. In the Unlikely Event by Judy Blume: Oh my goodness. Judy Blume has a new book coming out. I read everything she wrote when I was a tweener. I just saw this on Amazon's list of new releases. It sounds like a must-read to me.
9. Splendid Cities: Color Your Way to Calm by Rosie Goodwin and Alice Chadwick: I recently re-discovered the joy of coloring to relieve stress. Perhaps it triggers my obsessive-compulsive, rule follower tendencies and I find something soothing about coloring between the lines, meeting expectations, restoring order … my, my this could be a whole post in itself. Anyway, I love to color and it looks like I could have a new coloring book to take to the beach. Just like the kids. But I'm not sharing mine.
10. Whistling Past the Graveyard by Susan Crandall: My father-in-law loaned me this a few weeks ago and told me the first twenty-five pages were the best first twenty-five pages he'd ever read. It's definitely captivating. I look forward to reading more.
What's on your to-be-read list this summer? Share your suggestions in the comments below. If you have a blog, link up with broke and bookish and share your post.
Happy reading, friends!
photo credit: Compfight via creative Commons
Related Posts
About Author