31 Days of Debut Authors: Unraveled's half-birthday and a Giveaway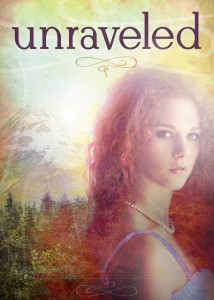 My first book baby, Unraveled, celebrates a half-birthday today. Woot! I know what you're thinking, it's a little silly to acknowledge six months on the market, isn't it? On the contrary, my friend. Much like a parent rejoices when his or her baby rolls over or begins to crawl, we authors jump at the chance to acknowledge benchmarks for our work.
Did you know there's a number of ways you can help a debut author's novel gain more readers?
1. Post a review: Once you've read the book, leave a review on one (or many) of the online retailers' sites. Share your thoughts, favorite characters, details that stayed with you. By all means, if the story kept you reading well into the night, please share that in your review, as well.
2. Sing praises via Goodreads: Are you an avid reader who loves to talk about books you've read but can't make a real-life book club work for you? Goodreads is the social media platform for you. Adding the book to your shelves, starting a discussion about it in one of the many groups, and recommending it to other readers are all ways to help a book gain a larger following.
3. Find the author online: authors are trying to figure out this social media thing just like you. I can't speak for all, but I think debut authors are especially eager to connect with readers. One complimentary thought from a reader about Unraveled carries me for days. Many established authors offer the opportunity to name a character or fictional location through their online platforms or host giveaways and contests … There's tons of ways to connect and help readers build lasting relationships with authors.
4. Invite the author to visit your book club: We are all more accessible in the age of FaceTime and Skype. While not all authors can make a personal appearance, many are willing to connect virtually. Check out their website and inquire. I know I'm quite flattered when a book club asks me to visit.
5. Give the book as a gift: As the season of giving approaches, consider buying paperback copies of your favorite books and giving them as gifts to the bookworms in your life.
To commemorate this fine occasion, I'm giving away a digital copy of Unraveled. In keeping with this month's trend, leave a comment below and tell me which person, living or deceased, you'd like to have dinner with. Please include your name and a valid email address so I can contact you. I'll close the contest Saturday, Nov 1 at 11:59pm EST and choose a winner on Sunday.
Related Posts
About Author
Heidi
A wife, mother of three active boys, voracious reader and writer of inspirational fiction. Also a huge fan of coffee, dark chocolate and happily ever after. My next novel, The Firefighter's Twins, releases June 2018 from Harlequin Love Inspired. I'm represented by literary agent Jessica Kirkland of Kirkland Media Management.
Comments