31 Days of Debut Authors: Zoe M. McCarthy and Calculated Risk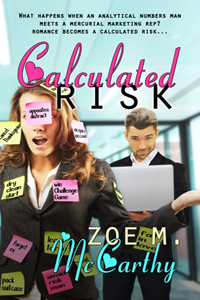 "Dating on the rebound, meddling parents, opposites fighting the attraction. . .with humor and tenderness, Zoe M. McCarthy puts fun, fresh spins on these favorite themes. No risk involved in picking up this romantic read!"    —Becky Melby, author of the Lost Sanctuary Series
Book Blurb:
What happens when an analytical numbers man meets a mercurial marketing Rep? Romance is a calculated risk.
Whoever said opposites attract was right, of course…but no one ever said what they attract.
Jilted by the latest of her father's choices of "real men," Cisney Baldwin rashly accepts an invitation to spend Thanksgiving weekend with a sympathetic colleague and his family. Nick LeCrone is a man too much her opposite to interest her and too mild-mannered to make her overbearing father's "list." Now, Cisney fears Nick wants to take advantage of her vulnerable state over the holiday. Boy, is she wrong.
Nick wants little to do with Cisney. She drives him crazy with all her sticky notes and quirks. He extended an invitation because he felt sorry for her. Now he's stuck, and to make matters worse, his family thinks she's his perfect match. He'll do what he can to keep his distance, but there's just one problem—he's starting to believe Cisney's magnetism is stronger than he can resist.
Five Questions with Zoe M. McCarthy:
What was the inspiration for your novel?
My husband and I are retired actuaries. We evaluated insurance companies' financial risks. I wanted to introduce a numbers man from this little known profession as the hero. And the heroine had to be his extreme opposite. Having worked with social, expressive marketing reps, I knew Cisney would be such a woman. A romance between Cisney and Nick was highly improbable. At least at first. Because I always hammer this truth: opposites distract before they attract!
If you could have dinner with three people (living or dead), who would you choose and why? Hmm. At a writers conference, I already had time with the author I aspire to be like: Jenny B. Jones. I'm not sure munching on tacos would have made the moment any better. So how about:
Jesus. Unlike doubting Thomas, I already believe in the miracle of His resurrection. But like Thomas, I'd like to be with Jesus in the flesh for a hug before we sat down to break bread.
Eric Liddell, the Olympic runner who respectfully wouldn't run heats on the Lord's Day in the 1930s. The movie, Chariots of Fire, featured that part of his life. But he also encouraged teens while in a Chinese prison camp during WWII. He was my hero's hero, in my recently finished manuscript. I'd love to have included a firsthand story from him in that novel.
George Mueller. This man from the 1800s ran an orphanage. He never asked for donations. He prayed for long periods of time each morning thanking and asking God to provide the children's needs. They may have waited a half hour for a meal, but God always sent someone with money or food. I'd enjoy hearing what he was thinking when he and the children sat in front of empty plates—waiting.
In terms of writing a novel, are you a plotter or a pantser? Or a hybrid combo?
I'm finally a hybrid. I like to plot the cycle of the story—know the turning points. Working out a loose synopsis ahead of time is helpful. Then I have fun working my way into and out of disasters as I write however the characters lead me. Sometimes they lead me as planned. Other times, they lead me astray and I need to rewrite. (I may give them the cold shoulder for weeks.) But often they lead me in intriguing directions I never considered in my plotting moments.
What can your readers expect from you in the future? Prequel, sequel, novella, etc.
In writing Calculated Risk, I found my voice. I'm at home in being inside the heads of a sassy and funny heroine and the guy who has to deal with her. My tagline is: Distraction to Attraction, Magnetic Romances Between Opposites. Readers can expect such romances from my writing. I'm working on two standalone books whose commonality is golf backdrops. I rarely play golf but my analytical husband does. After he related every shot of his eighteen-hole games a few times, I found I could write what I "know."
Please share one piece of advice for aspiring writers you wish you'd known before you started this writing journey.
Agent Chip MacGregor said in a workshop that a serious aspiring writer usually learns the craft while completing her first four books and then receives a contract on the fifth. I was writing my fifth when I heard that. And lo and behold, that novel received a contract. I'm glad the others didn't. I'd be red-faced today if they did.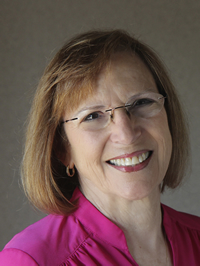 Zoe M. McCarthy believes the little known fact that opposites distract. Thus, she spins Christian contemporary romances entangling extreme opposites. Her tagline is "Distraction to Attraction, Magnetic Romances Between Opposites." Calculated Risk, Zoe's debut novel, will be available November 21, 2014. Christian Fiction Online Magazine published two of her short stories. Zoe enjoys leading workshops on the craft of writing, speaking about her faith, planning fun events for her 5 grandchildren, and exploring the Blue Ridge Mountains, where she lives with her husband, John.
Readers can connect with Zoe via her website, Pinterest, Twitter and Facebook.
Calculated Risk is available for pre-order here.
Related Posts
About Author
Heidi
A wife, mother of three active boys, voracious reader and writer of inspirational fiction. Also a huge fan of coffee, dark chocolate and happily ever after. My next novel, The Firefighter's Twins, releases June 2018 from Harlequin Love Inspired. I'm represented by literary agent Jessica Kirkland of Kirkland Media Management.
Comments