What I'm Into: September Edition
September went by in a flash for us. We're a mixed bag in our house when it comes to change. Some embrace it wholeheartedly while others cried in their Kix this morning when someone announced it was the last day of the month. I suppose the transition from September to October is quite remarkable, hence the angst. I, for one, am looking forward to October and all that it entails. But for now, I'm linking up with Leigh Kramer and celebrating the highlights for September before we bid it a fond farewell in a matter of hours.
Here's what I'm reading:
Jan Karon's Somewhere Safe with Somebody Good: I'm a die hard fan of the Mitford series and I was over the moon with joy when she announced her plans to release another novel. Every page is exquisite and I'm savoring the experience.
Rainbow Rowell's Landline: I adore her quirky, fun, unique writing style. The premise of this novel combined with the dialogue and the protagonist's take on her circumstances makes for an enjoyable read. Disclaimer: not rated E for Everyone. If foul language offends you, read elsewhere.
Jake Smith's Wish: I'm featuring Jake Smith in a post in October and I've wanted to read this novel since it's release earlier this year. I love baseball and a tug-at-your-heartstrings kind of story. This has both in spades.
This just in: Amy Matayo's Sway: it arrived on my Kindle a few hours ago and I'm already smitten. Amy held an impromptu giveaway on FB last night and I was a lucky winner. The Wedding Game was a fabulous read and I blazed through Love Gone Wild so I'm quite certain I will adore this new release. And the cover. Oh my word. You should click on the link just to see it.
Listening:
I'm behind on the times, I'm sure, but I discovered the iHeartRadio app this month. Now I can listen to the Bobby Bones Show and my new favorite country station out of Dallas/Ft. Worth (that's 96.3 KSCS, by the way). On the non-country front: One of my favorite authors, Melissa Tagg, often mentions her affection for NeedToBreathe. A friend took us to their show several weeks ago and I'm a fan for life. Their show in Boston last weekend was live and free via the internet. Once again, I was enthralled by their lyrics, stage presence, musical talent. Anywho, here's what's on the heavy play list now:
NeedToBreathe: "Drive All Night"
NeedToBreathe: "State I'm In"
Carrie Underwood's new release: "Something in the Water"
Thomas Rhett: "You Make Me Wanna", which you can read all about and enjoy here
Watching:
I gave up watching television because I needed to find time in my day to write on a regular basis. However, I heard that this is the last season of Parenthood (what?!) and how cute is Duck Dynasty's Sadie Robertson on this season of Dancing With the Stars? Her performance last night inspired by the movie UP was so fun. Clearly I've broken my TV-watching fast. Of course, October means the post-season for professional baseball and I refuse to miss that. If you need a quick summary on who to root for now that there's no Yankees or Red Sox involved, go here.
Writing:
I'm a writer and a bit of a newbie. There's so much to learn and understand about the business of writing. Although releasing my debut is a dream come true, I've a whole new appreciation for authors trying to share their work with the world. That's why I'm taking The Nester's #write31days challenge and promoting a different debut author every day in October. Woot!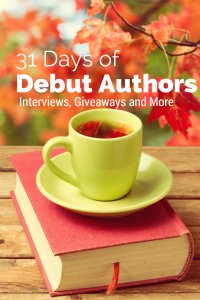 I hope you'll come back tomorrow (and the day after that and the day after that…) for fun Q and A's, book giveaways and more from many talented debut authors.
If you'd like to share your September edition of What I'm Into, Leigh Kramer's link up is open.
Related Posts
About Author