A Life Intercepted: A Conversation with Author Charles Martin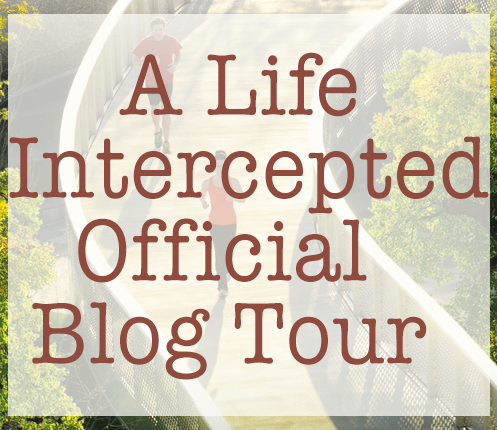 I am honored to be a part of the blog tour for Charles Martin's new release, A Life Intercepted. I became a fan of his work last year when a book blogger declared Unwritten the best book she'd read in 2013. So of course I had to read it. In fact, I couldn't stop reading it and devoured it in a weekend. Then I immediately searched the all-knowing internet for more books by this new favorite author. The cover reveal and early promotional materials for A Life Intercepted  left me eagerly anticipating its September release. This is a fantastic read and I'm delighted to share Charles Martin's thoughts on his tenth novel. In preparation for the blog tour, he shared a bit about the inspiration behind the story, his writing process and of course, football. I hope you enjoy reading his thought-provoking responses.
What inspired you to write this book? 
I stood on the sideline last year watching my son play this game that once meant a lot to me. Watching him play surfaced some things in me that I'd not dealt with for a long time. The depth of those feelings – even after twenty years – surprised me. Pretty soon, I found myself working out those feelings and that bled into this book. Which is true with all my stories – it's where I work out with my fingers what my heart and mind are dealing with. It's a story I've wanted to write a long, long time.
What experiences or skills from the football field have most influenced your life? 
Football is a game with defined boundaries and rules within which you get to play with reckless abandon. Where eleven do what one can't and never will.  It is, quite possibly, the greatest of games. I probably learned more from losing than I did winning (but I liked winning a good bit more). It's also where I learned to fight through difficulty, pain, and circumstances you can't control. It's where I learned that heart, when it counts, trumps talent and skill any day. And it's where I learned that when things get difficult, and I want to throw up my hands and walk away, I have the choice to quit or not. It's that simple. As a writer, I've endured some major defeats. My first book was rejected 86 times; I've seen contracts cancelled, books rejected after I hit the NYT list, and known days on end when the words just don't come. Now, if you're beginning to think that I'm some strong stoic, able to pick myself up by my own bootstraps, don't. I've been beat down and humbled. And I have known defeat. The great thing about football is that it formed something in me at an early age, creating that gumption to buckle up my chinstrap one more time.
You son is currently a star high school quarterback. What do you hope he takes from the book? 
He was one of the first to read it. If it is in his heart to be good at football, I hope he plays it all out. Plays it with his whole heart. I hope he wins and succeeds and knows the fist-pumping jubilation that comes with great achievement. And when someone beats him – because they will – I hope he goes out with his buddies, eats a cheeseburger, drinks a chocolate milkshake, and then wakes up the next morning with a desire to get better.  Lastly, I want him to know that he's free to walk away from it. He doesn't have to be me, doesn't have to love it like I love it. I'm not measuring him by his success on that field, and the scoreboard is not the indicator of his value. It's a game. That's all. It's a great game, but it's still a game.
You're both an athlete and an artist. Do these two roles conflict with one another? Did you ever feel split between the two? 
Yes, but that was due to my immaturity. As I've grown, and aged, they mesh together pretty well. Both are expressions. This morning, I'm writing.  This afternoon, in about three hours, I'll go for a run. I need both. And I'm not sure I'd be very good at one if I didn't have the outlet of the other. I'm grateful God allows me both.
What do you hope readers take away from this story? 
Love does what hatred cannot – and never will.
I hope readers like my stories. I hope they're entertained. I hope they pass them around and talk about them. But more than that, when the lights go out and they're facing a tough tomorrow, I hope that something about my story reaches down inside them where the world has dinged them, in the dark places they don't talk about, and whispers the words they alone need to hear.
This is your tenth book. How have you grown as a writer since that first book? Is there a novel or character you're most attached to? 
I'd say that my writing is "cleaner." Less filler. As a writer, I'm comfortable in my own skin.  Maybe my characters are more developed. Maybe my plot developments leaner, more taut. As for being attached to a specific character – no. They're all walking around inside my head. I talk to them all the time.
What does the writing process look like for you? 
Books don't write themselves. It looks like a lot of time in this chair. I'm very comfortable spending days on end right here and seldom coming up for air. Being able to do that is a gift – God gave it to me. Like Eric Liddle said, "It's where I feel God's pleasure."
What role does faith play in your writing? 
Hanging above my desk is a sign that reads, "Imagination is evidence of the divine." I like that. I also believe it's absolutely true. God thought me up and shared with me the ability to dream, think, create, and to do so independently of Him. If you let that sink in, that's an amazing Creator.
I used to give long drawn out answers to this. Let me skip all that and invite you into my prayers. When I pray about my life and specifically my career and writing, I ask the Lord to let my books stand, as C.S. Lewis and others have said, "as road signs to Jerusalem." I pray they do that. Secondly, Psalm 45. Read it for yourself. I pray that at the end of the day my stories "make His name known to generations." His glory. Not mine. Lastly, I pray that on that day when I'm there standing before Him, that He knows me, finds me worthy (and because of Him I am), and then leads me by the hand into His personal library. He points to a stack of well-worn books on His desk and says with both a smile and tear, "Look what I've been reading to my angels."
If you'd like to see the fabulous book trailer for A Life Intercepted, please click here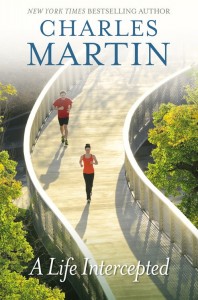 A Life Intercepted is now available at your favorite retailers:
Barnes & Noble
Books-A-Million
Indiebound.org
Amazon
More about Charles Martin: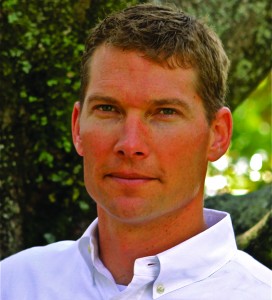 I used to put a long list of all my great and varied accomplishments right here  in this space (In truth, it was rather short.) hoping it made me look important.  Now that I'm forty, I'm not sure I see the value. Yes, I have a few degrees and I  worked hard to get here, but saying all that reminds me of the story of the guy  who walked barefoot, backwards, through the snow, uphill both ways, carrying  his horse…to school. (I'm scratching my head.)
 Here's some of the stuff that matters.
 Christy and I married in 1993. If you include dating, I've known and loved her  for more than half my life. She is and always will be the home for my heart. We  have three boys. Charlie, John T. and Rives. Folks often ask me, which of my  books do I like the best. You might as well line up my sons and ask me who I  love the most.
My hobbies are bow hunting, working out (a blend of old school stuff and martial arts, called Fight Fit) and Tae Kwon Do. In October 2012 I earned my black belt but I'm still the least flexible person you've ever met. The guy that trains me, laughs everytime I start warming up. My boys are far better at Tae Kwon Do than I but I doubt they have as much fun – I get to do and watch. They just do.
I also like to write, but that's another story.
You can connect with Charles here at his official website.
Heidi's review:
Charles Martin is a true storyteller, painting a picture with words that draws the reader right into the world of the novel. As the story opened, I experienced Matthew Rising/The Rocket's epic highs as a phenomenal football player on the cusp of a brilliant professional career. Martin sharply contrasts these highs with the excruciating pain of Rising's losses as everything he once held dear is ripped away. The characterization and the details make such losses palpable. While few of us can relate to life as a talented athlete with unlimited potential, I would venture to say that most of us, when pressed, will admit that we put many, many things on a pedestal and elevate them above what matters most. Charles Martin explores this theme in A Life Intercepted and demonstrates that "love does what hatred cannot … and never will." 
I thoroughly enjoyed this novel and highly recommend it to anyone who reads for the fabulous experience of being 'lost' in a story. A Life Intercepted  isn't just about football. It's a captivating story of hope, love and redemption … a novel not to be missed.
I received a complimentary copy of this novel through NetGalley.  All opinions expressed in the review are my own. Many thanks to the social media marketing team at Hatchette Book Group for including me on the blog tour.
Related Posts
About Author
Comments