Throwback Thursday: Preschool Firsts and Lasts
I took our last child to his last first day of preschool this morning. Are you with me? Good. It was a milestone that passed with little fanfare. I didn't cry and he didn't, either. After a few hugs initiated by him and words of encouragement, compliments of me, I handed him off to his delightful new teachers. Resisting the urge to skip across the parking lot, it wasn't until I was halfway to the store that I realized what just happened. Whoa. This won't be a sappy, sentimental, oh-no-my-baby's-almost-in-kindergarten … don't worry, that post will come. Mostly I'm marveling at how the seasons of life bring change and growth. In honor of Throwback Thursday, I wandered back in time to the fall of 2007. Here's a picture of our firstborn's first day of preschool. That blog post had a completely different tone, let me tell 'ya. Will he be okay? Can he use the bathroom by himself? What if he has an accident? I was a frazzled, anxious mom separating from her first child yet eager to race home so the baby could take a nap and I could finally have a few minutes to myself. Funny thing, I'm still in a hurry to hoard some "me" time, but the issues I agonized over then aren't the things that weigh me down today.
I'm not at all suggesting I have this gig figured out. Our children pitch us curve balls every day. We take two steps forward and then one step back. Some issues raise their ugly heads repeatedly and we wonder if there will ever be resolution. But this I know for sure, there is One who is on our side, doing more than we could ever ask or imagine to shape us into the people He has called us to be. I'm confident that He's equipped us for every crazy twist and turn of this journey. I'm grateful He used something trivial like preschool drop-off to remind me of His faithfulness.
Just for fun, here's today's photos. Call me crazy, but I think this little cutie is ready to go.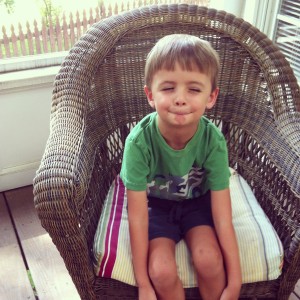 He consented to posing by the flowers for one last shot before I walked him inside.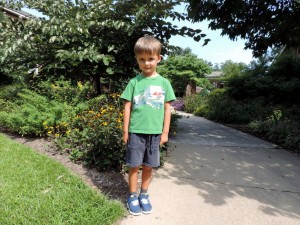 Have a great year, little mister. I think I'm going to miss you.
Related Posts
About Author