The Ten on Tuesdays: Favorite Books About Friendship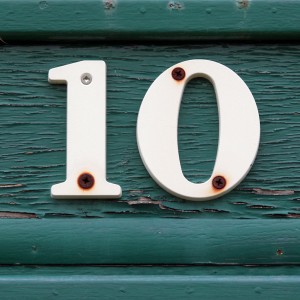 I'm linking up with The Broke and the Bookish today and sharing ten books about friendship. These are a combination of my favorites, my children's favorites and two that come highly recommended but I haven't read them, yet.
1. The Rainbow Fish Marcus Pfister and J Alison James. I've read this to my kiddos many, many times. I think they just like the page with the shiny scales. But it's never too early to hear the deeper message about friendship and giving of yourself.
2. George and Martha: The Complete Stories of Two Best Friends by James Marshall. My mother-in-law introduced us to the George and Martha books a few years ago. So funny. The boys howl with laughter every time.
3. Divine Secrets of the Ya Ya Sisterhood by Rebecca Wells. When I saw the topic for today's list, this is the first book that came to mind. A beautiful story about complicated relationships and the circumstances and choices that shape us. I love the dynamics of the "Ya-ya's" and the beauty and heartache that weaves throughout their friendships.
4. Tuesdays with Morrie by Mitch Albom. As the cover states, "an old man, a young man and life's greatest lesson". Enough said.
5. The Help by Kathryn Stockett. Aibileen and Minny, Skeeter and Aibileen … even Skeeter's precarious position in society between revealing the truth and dealing with Hilly heinous attitudes … so much to examine and appreciate in this novel. One of the most moving and incredibly well-written books I've ever read.
6. Vision in White: Book One in the Bride Quartet by Nora Roberts. I enjoyed this four book series about friends living together and running an upscale wedding planning business. The first book was by far my favorite. For a fun, lighthearted, somewhat steamy romance that incorporates friendship, this rates pretty high on my list.
7. Barefoot by Elin Hilderbrand. Two sisters and one friend arrive on Nantucket for the summer, hoping to leave the challenges and heartaches of their everyday lives behind. A great summer read from one of my favorite "beach read" authors.
8. The Fault In Our Stars by John Green. Every time I blog about books these days, I mention this one. Seriously. So incredible. In terms of friendship, I love the way Augustus Waters loves his friends. It's as simple as that.
9. Eleanor & Park by Rainbow Rowell. I haven't read this yet, but the description intrigues me. An unlikely friendship that starts with a bus ride and grows from there. I loved Attachments, so I'm eager to try another novel by Rainbow Rowell.
10. Firefly Lane by Kristin Hannah. A story about two women and the friendship that spans three decades. Love, loss, betrayal and the Pacific Northwest. What's not to like, right?
Your turn: what's your favorite book or series of books that incorporates the theme of friendship?
Related Posts
About Author
Comments