Happy Book Birthday, Here To Stay!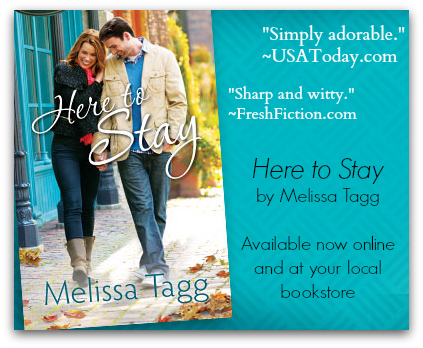 I'm very excited to spread the word about one of my favorite rising authors and all-around cool chika, Melissa Tagg. Her sophomore novel, Here To Stay, is out of the gate with tons of much-deserved praise, including numerous five star reviews. If you like a laugh out loud rom-com paired with a tender message of redemption and hope, then you simply must add Here To Stay to your summer reading list.
Back cover blurb: After playing nomad for five years, Blake Hunziker has finally had enough of adventure. Not sure what reception he'll get from everyone back in Whisper Shore, he's stunned at not only a warm welcome from his hometown but also a job offer. The job is his if he can successfully pull off the annual Christmas Festival. If only he knew the first thing about coordinating events…
If there's one thing Autumn Kingsley knows, it's Whisper Shore. For years, she's been stuck running her family's inn when all she wants is to see the world. Now she has a visit scheduled from a potential investor who could take over the inn, as well as a dream job offer in Paris. But with just two weeks to whip the inn into shape, her chance at escape is a long shot.
The Hunzikers and the Kingsleys may not get along, but Blake knows Autumn's the only one who can help him. She agrees to a trade–she'll help with the Festival and he'll help with inn repairs. But what was meant to be a simple deal quickly becomes much more than that when the guy who's done running away joins forces with the girl who can't wait to leave.
My review: The list of things I love about Here To Stay seemed to grow with each passing chapter. First, let me say that I was looking forward to this sequel before I even finished Melissa Tagg's debut novel, Made To Last. Blake Hunziker's words, actions and his final scene in that story left me eager for more. I was thrilled when I found out he played the role of hero this time around. The rich layers that comprise Here To Stay are evident from the opening paragraph. Autumn Kingsley is fixing the roof on her family's Inn, longing for a letter to arrive in the mail that will supposedly "change everything". When she gets down from the roof, she runs right into an old flame and his new fiancée. Hello, conflict. Of course I had to keep reading. From the minute Blake appears on the pages of Here To Stay, it's obvious he has issues: struggles, challenges, regrets … all of these combined with his generosity, ability to pilot a plane, and his desire to right past wrongs makes for one swoon-worthy, incredible hero.
Blake and Autumn have so many obstacles standing in their way, both external and internal. Guilt, pride, goals and dreams they long to achieve but haven't yet. Furthermore, their families have a long history of broken relationships and competing business interests. I was rooting for them both from the get go, yet each time the stakes increased, I couldn't help but wonder if this was the thing that would keep them apart forever. That's what I love about inspirational fiction: the issues and characters are relatable and the underlying message of hope and God's sovereignty is like a subtle stream, flowing throughout the novel.
Melissa Tagg does an outstanding job of crafting dialog that makes us giggle one minute, yet tugs at our heartstrings just moments later. She has certainly carved a niche for herself in the rom-com genre. While I get a kick out of witty comebacks and playful banter, I long to read a novel where the hero and heroine come to grips with their heartache while experiencing a subtle, believable transformation. To me, those are the components of a powerful story. Well done, Melissa Tagg! You knocked this one out of the park. I can't wait to read book #3.

A special thanks to the publisher, Bethany House, for a complimentary copy of Here To Stay in exchange for a fair and honest review. Thank you to Melissa, as well, for welcoming me to her launch team once again. I've thoroughly enjoyed it. 
This just in! For a limited time, Melissa Tagg's debut novel, Made To Last, is only $1.99 for your Kindle. Click here and start reading book #1 in this fabulous series. 
Social Media Love: Melissa enjoys connecting with her readers. She has a fantastic sense of humor, by the way. You can check out her beautiful website here , follow her on Twitter here , or visit her Facebook Author page here . Happy reading, friends!
Related Posts
About Author