A Book Birthday, A Giveaway, A Few Little Known Facts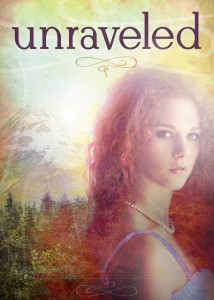 While Unraveled has landed in the hands of friends and family, as well as my treasured early readers, today is the day I've dreamed about, hoped for and occasionally shed a few tears over … my debut novel's official release into the world.
Sigh. Somebody pinch me.
On the eve of our wedding, Steve's siblings stood up at the rehearsal dinner and 'roasted' the groom-to-be. That might be a Southern thing. Sorry, you don't get to hear what they said, but I will 'roast' Unraveled, instead.
Five Little-Known Facts About Unraveled
1. A minor character in the novel, Seth, is based on a real person from my childhood. My parents owned a lodge in Alaska for a big chunk of my childhood. We were a few miles from a gold mine. The family that mined in this particular spot relied on us for telephone use, an occasional hot shower, a drop off for heavy equipment, etc. One of the miners stuttered. But when he sang, he didn't stutter at all. He was often alone in the mine, so by the time he got to our place, he was quite chatty. He sang his way through many a conversation. I found this quite fascinating and found a way to work it into the plot.
2. The second chapter was the first chapter for a loooong time. Through the years I affectionately term 'the baby-raising' years, the first paragraph of chapter two lived on my hard drive. We had 3 boys in 6 years and not much time to write. I knew my first novel would be the story of a girl going back home to Alaska. But once I learned more about the craft of writing, I realized that I needed a little more substance in my first chapter so my readers would want to know Lauren. A new first chapter was written and re-written numerous times until I felt confident this was a girl we could root for.
3. Lauren was originally named Carrie. Until I entered the first chapter in a contest and an editor said that name was reminiscent of a girl from the covered wagon days, not a modern day women's fiction heroine.
4. Unraveled as the title. I'm a huge fan of single-word titles. A certain character called the heroine by the wrong name (not Carrie) early on in the novel, and much to my surprise, this thing went in a completely different direction. By the way, I always thought authors were crazy when they said that. I mean, c'mon. You wrote the darn thing, so change it. But then it happened to me and I knew this was a girl with some secrets that would unravel. Unraveled was the first title that came to mind and it never changed. Thank you, Winslet Press for letting me keep it.
5. I heard Lady Antebellum's Dancing Away With My Heart for the first time while writing the first chapters of Unraveled. I immediately saw Blake and Lauren dancing together and hurried to scratch the scene out on paper. The polished scene occurs late in the novel, but I wrote toward that scene. It was like my light at the end of the tunnel.
In celebration of this gigantic dream come true, I'm giving away an autographed copy to one lucky reader.
See all of the details and delightful fine print listed below.
Related Posts
About Author
Comments