Throwback Thursday: Happy Easter edition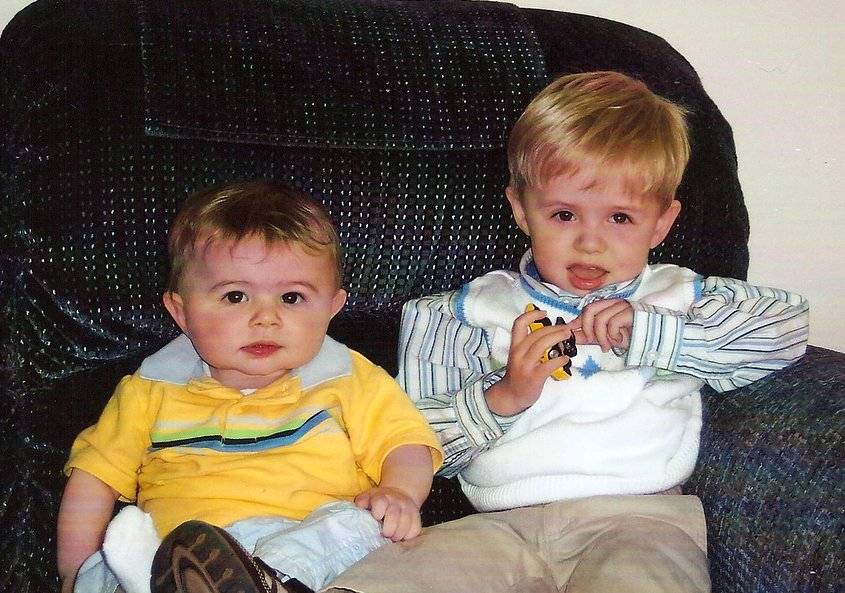 A shout out to the middle child on this Throwback Thursday … before he was even a middle child. Ha! This was his first Easter. I was so excited to have coordinating outfits from Gymboree to dress the boys in. They were not impressed. We could hardly get Luke to stop crying long enough to take the picture. That's probably because I made him wear a sweater vest. I think this was the first and only time I coordinated their Easter outfits. The weather in western Washington can be a bit on the chilly side.
This was the first Easter my parents, my sister and our families all lived within an hour of each other. We went to my parents house after church and had our first Easter egg hunt in their new, humongous back yard. My nieces and nephew wouldn't want the picture posted so I refrained,  but I found a great one of all four of them trying to hold a swaddled Andy. He's screaming and they're so proud of themselves, posing for the camera and clutching him like a bundle of firewood.
This season of life went by in a blur for me. The transition from one child to two was really difficult. But it's photos like these that make me smile.
Happy Easter, y'all.
I'm linking up with Jessica over at the Mom Creative as she kicks off a new blog series called Throwback Thursday Stories. There are some fabulous posts already up, so click here to check those out and/or share your story, too.
Related Posts
About Author