Five Things I Learned in March
1. Pretend safaris are the best kind: okay, so that's not entirely true. The safari at Animal Kingdom in Disney world will blow your socks off. But in my world, an invitation to my favorite preschooler's pretend safari IS the best kind. Especially when he spends the whole time taking pictures of his mama.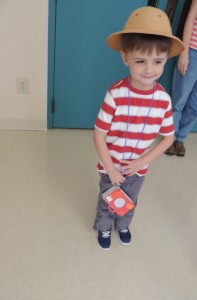 Isn't he the cutest thing?
2. Being asked to spell 11,672,982 words in a single day by said 4 year old is quite taxing. Especially when you spell it correctly and he argues. God's been trying to teach me a lesson about letting go of my perfectionist tendencies. I think I'd prefer a new lesson plan.
3. Deadlines are our friends. I cranked out more than 11,000 words this weekend. On a writing project due tomorrow. I haven't done that since … the last time I procrastinated on a project until the weekend before it was due.
4. According to the all-knowing Pinterest, buying airline tickets on Tuesdays at 3pm, six weeks before your flight, is the sweet spot for low fare acquisition. Do you think this is true? Anyone willing to test this theory? I'm always afraid to wait that close to our travel dates for fear there won't be enough seats, or I'll have to call the Grandparents and announce we aren't coming because tickets are now $938 each way.
5. Be careful what you say about Gwyneth Paltrow on Twitter. Holy Moly. In light of recent events and allegedly ridiculous comments made by GP, Good Morning America asked for some feedback. I complimented another mom on her wise observations regarding the whole situation. Well. Someone named Deanna with an ax to grind went a little cray cray. Lesson learned.
This is my absolute favorite post of the entire month. Emily Freeman from Chatting at the Sky hosts this fab link up. Click on over and join the conversation, k? You just might learn something.
Related Posts
About Author
Comments