Five Minute Friday: {Visit}
A visit. Unexpected or planned, there's much fanfare that precedes it. If a visitor arrives spontaneously, parents of young children scramble to make the house presentable. If a visitor is invited or offers ample warning, much preparation ensues. An event that's supposed to be about a relationship becomes more about completing a task list. Between the job changes, the moves, the baby-raising years … somehow the value of hosting a visitor has fallen off our radar. I try to remind myself that my attitude about inviting others into our lives has a lasting impact on how our children view their relationships with others. Visitors are a blessing. And I should know. For the first decade of my life, our family was all about visitors …
My parents owned a cafe/gift shop/gas station … what's known in the Last Frontier as a lodge or a roadhouse. Visitors came seemingly in droves every summer to our Alaskan abode. By bus, RV, car, truck … occasionally by helicopter or bicycle. They were on the trip of a lifetime and spent a few minutes or sometimes a whole day with us. My parents welcomed a number of regular visitors to sit at our counter and share their lives with us. What started as a cup of coffee and a slice of pie gradually morphed into a wonderful friendship. A handful of people became like family to us, investing in the lives of my sister and me with fishing trips, hikes, horseback rides … we grew up knowing that these special visits meant we were loved and cared for. While I was too young to have a complete awareness of what was going on, occasionally somebody's life came undone and they found solace in their visit with my parents. It was an unusual childhood in which we learned a lot, some of it not always pretty. But in the context of visitors, we definitely learned that people, their complicated stories and occasionally misguided adventures mattered. 
A visit of the extraordinary variety included people related to us: grandparents, uncles and aunts, cousins. Every family probably has a method in which they document a special visit. But I think we might be the only family who marked these special moments with a picture in front of a very large boulder …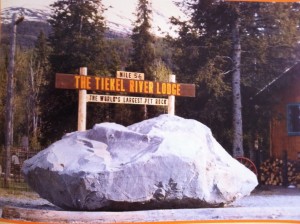 What? You never took your family picture in front of the World's Largest Pet Rock? Well. You're missing out. Our scrapbooks are populated with many a memento of our most adored visitors standing in front of this rock…
Okay, that was more like fifty-seven minute Friday. Apparently I had a lot to say about 'visit'. Your turn. Come over here and share your thoughts with a fabulous community of writers. You'll be glad you did.
Related Posts
About Author
Comments