Throwback Thursday: We Take Our Skiing Seriously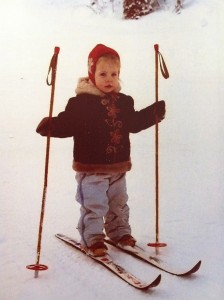 Just another day on the alpine trails of wintery Alaska. I look thrilled, don't I? Apparently skiing was very serious business. Or else I was freezing. Maybe a little of both.
The unusually cold temperatures combined with the pre-Olympic media coverage has left me longing for some quality time in the snow. We'll have to travel a few zip codes to take the boys outside in some real snow, I supoose. I'm grateful for our parents and their willingness to explore the outdoors. I'm sure it was partly out of a desire to keep us entertained (very little TV, computer and video game exposure during my early childhood). But there was also this huge, beautiful, untouched wilderness in our backyard waiting to be explored.
On this fine throwback Thursday, leave a comment and tell me your favorite winter activity as a child.
Related Posts
About Author