The Home Stretch: 5 Ways To Survive The Last 36 Hours Before 12.25
Well, the weather outside is frightful … our attitudes are far from delightful …andyoucan'tpaymeenoughmoneytotakethreeboysanywheretoday …
okay, that last part didn't rhyme. Forgive me. My brain is numb from mediating petty disagreements and listening to that annoying music that accompanies a certain game involving flying birds and bright green pigs.
We did manage to get out of the house for a couple of hours this morning because we all agreed a trip to the YMCA would be fun. But now the rain pours down and the afternoon stretches before us. I'm not opposed to some bonus minutes huddled around their favorite electronic device, but two hours is about the limit for the fellas I live with. They become so overstimulated that the rest of the afternoon and evening is an absolute disaster. Don't misunderstand me: if seven hours of Minecraft is on your children's agenda today while you wrap up those last-minute details, far be it from me to judge. But I need something else to keep the littles occupied.
So I went where every mother goes when she's in need of guidance and inspiration these days: Pinterest
1. Craft a Simple Cottage
(photo courtesy of Martha Stewart)
I walked by the gingerbread house kits at various stores about a dozen times in the last month. I always meant to grab a few but never did. Quite frankly, this project has always ended in tears because the finished product didn't look perfect. But once upon a time, the moms' group I belonged to made very simple houses out of graham crackers. It was fun and relatively easy. While ours won't look like Martha's, I'm tempted to pull out the graham crackers, stale cereal, and canned frosting and let the boys design their own cottages.
2. Classic Board Games
We're getting a lot of mileage out of this one. Since our boys are at different ages, Battleship and Scrabble just doesn't suit everyone. I never thought Chutes and Ladders would appeal to the masses, but we're having  a good time. Mostly. I forgot how hard it is to learn to play fair and win or lose graciously. Some of us are still working on that.
3. Paper Crafts
(photo courtesy of spoonful.com)
My boys are surprisingly crafty. The oldest is really into Star Wars origami and we have tons of clone troopers and Yodas lying around the house. We often catch him huddled under his flashlight, crafting long after he should be in bed. While I think he'd love to tackle something complex like these Star Wars inspired snowflakes , I'm pretty sure the others can't handle it yet. Thank goodness the great people over at spoonful.com have a huge list of printables, including this adorable Wayne from Prep and Landing. I love that show. For the Frozen fans, Pinterest also has a great selection of printables and crafts inspired by the movie. Have you seen it? Loved it. My new favorite.
4. Random Boy Stuff
Occasionally, and I mean for about 15 minutes in the morning and another 20 or so in the afternoon, the planets align and the boys invent a game that leads to much giggling. Until it doesn't. Please see my earlier reference above about conflict mediation. Anywho, the random game of the week that brings forth spontaneous bursts of joy is a called "angry birds go".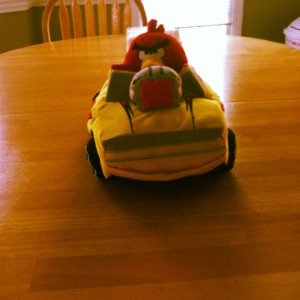 They stuff their birds into any sort of vehicle they can find, and race around the house, upstairs and down. Complete with color commentary. Eventually somebody "falls down" and there's much weeping and gnashing of teeth. But I applaud their creativity, nonetheless.
5. An easy treat any mom can manage
I promised the middle child we'd make sugar cookies. I better get on that. Unfortunately we're out of sugar and taking three boys into the grocery store today would be like my own personal h*ll. Just sayin'. Someone brought these delightful concoctions to a cookie exchange last year and we loved them. Wonder of all wonders, we have the ingredients in the pantry.
Square, waffle-like pretzels, Hershey's hugs and/or kisses, red and green M & M's … 5 to 6 minutes at 350 and you're all set. Consume at your leisure.
You're welcome.
Merry Christmas!
Related Posts
About Author