Salchows, Halfpipes, and … Lolo?! Oh my.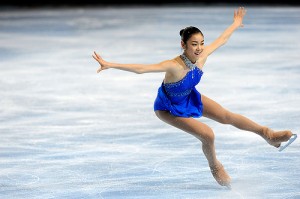 Photo credit: Flickr via Compfight
I'm working on a story about a competitive figure skater. Do you know your Salchow from your Triple Lutz? Me, either. But let me just say that I've watched a lot figure skating in the last week or two. Which gets me all fired up for the 2014 winter Olympics in Sochi. I love the Olympics, probably the winter games more so than the summer. The stories are always so poignant and there's no shortage of underdogs to tug at the heartstrings.
While your making your list and checking it twice, skiers, snowboarders and figure skaters (just to name a few) are still competing for coveted spots on the Olympic team. Can you imagine? Nothing says holiday stress like the potential death of your life-long dream.
I always like to know the big stories leading up to the Games. For my own enjoyment (and possibly yours, too) here's a few of the athletes making headlines:
Lolo Jones, formerly a track and field athlete, is trying to make the USA Bobsled team and do a little damage control after she complained about the meager paycheck she received as a bobsledder. Seriously. The whole story is here
For the first time, the ski halfpipe will be an Olympic event. Americans Maddie Bowman and Angeli Van Laanen are expected to make the Olympic team, as they finished first and second at the first of five Olympic trial competitions this week. The most interesting tidbit here is that Van Laanen is back after a three year break from the ski halfpipe to treat her Lyme Disease. Wow. That's perseverance.
One to watch: Gracie Gold's journey to the Olympics. A great story about this dynamic figure skater is posted here. No pressure or anything, but when your last name's Gold, America starts to ramp up the expectations. Especially if we're hungry for an American figure skating Olympic champion … which we haven't had for quite some time. Don't rule out Ashley Wagner or Agnes Zawadzki, either. However, stiff competition from Japan's Mao Asada, Italy's Carolina Kostner and South Korea's Yuna Kim (Olympic medalist in Vancouver) makes figure skating an Olympic event you won't want to miss. And I'm not just saying that because it's my favorite. Honest.
Before you go on your merry way, you simply must read this incredible story about an Olympic hopeful who has battled everything from disordered eating, parenting three children, Superstorm Sandy and a recent concussion to achieve her delayed dream of skating in the Olympics. Did I mention she's 50 years old? Go. Read it. You'll be so glad you did.
Your turn: what's your favorite winter Olympic event? 
Related Posts
About Author