Tuesdays Unwrapped: Nativity Freestyle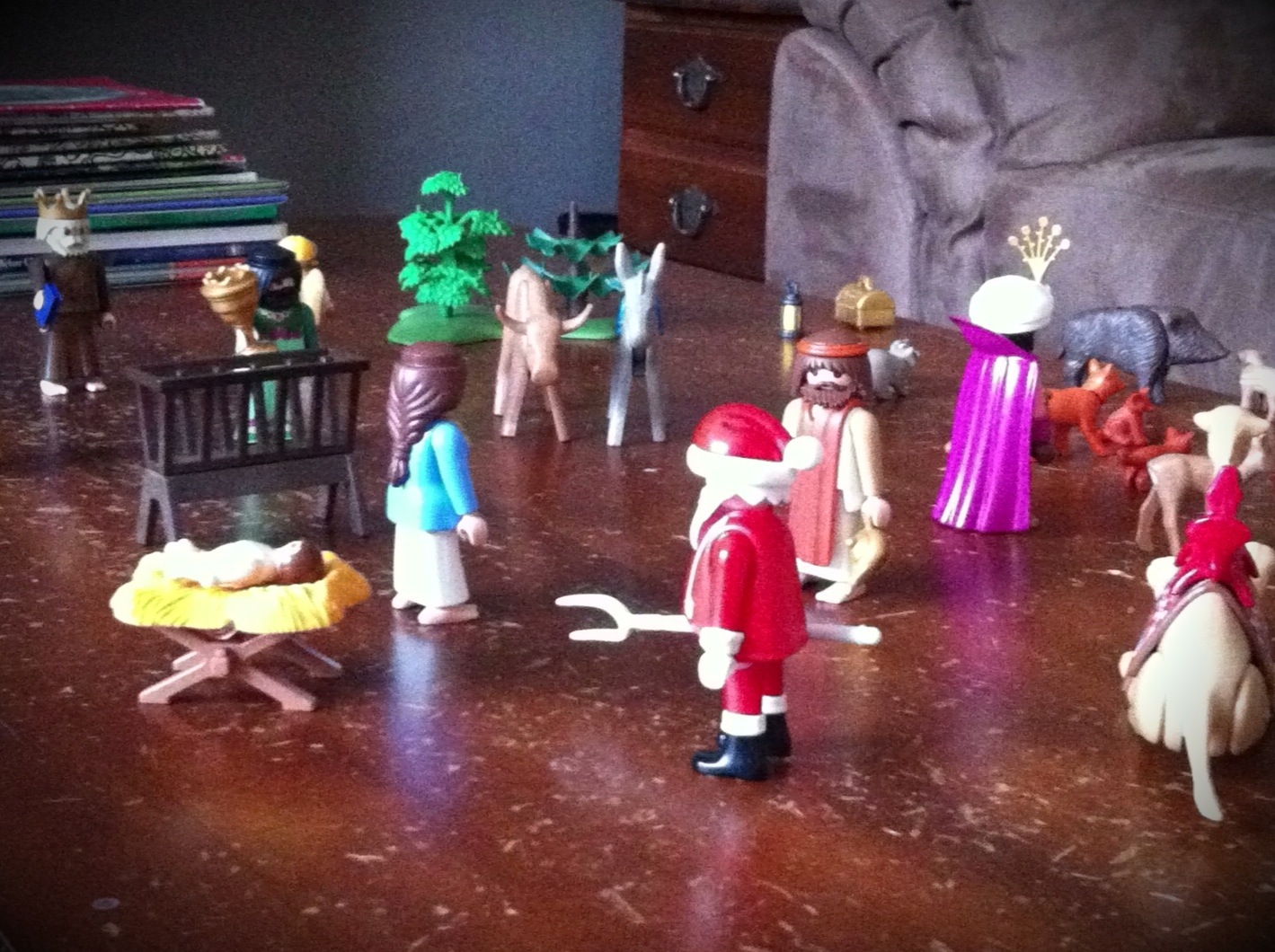 I've always wanted a 'real' nativity set. Ornate, fancy, simple or understated. I'm not even sure it matters. I just want one. Because "good" housewives have a complete nativity set as the centerpiece of their Advent celebration. Right?
Wrong. This season is supposed to be about joy. Anticipation. Gifts that celebrate the ultimate Giver. I want the soundtrack of these next twenty-four days to be Christmas carols, child-like wonder and laughter.
My children's unexpected gift to me this morning was what you see here. They'd rediscovered our Playmobil nativity set, which is actually a mishmash of two sets combined. Instead of wrestling and arguing the last ten minutes before we're supposed to leave for school, they hung out by our mostly undecorated tree and entertained one another. Instead of hurled accusations and tears, I heard laughter and witty conversation. I'm sure it wasn't historically accurate, but I enjoyed their spontaneous freestyle nativity fun. My favorite part is that the only one paying any attention to the almost naked baby Jesus is Santa Claus. And his pitchfork. Maybe we should revisit the Biblical story of the First Christmas sooner rather than later.
Lest you think it's all good times and Kodak moments, let me mention (in the interest of full disclosure) that all the fun came to a screeching halt when someone poked someone else with a shepherd's staff. The end.
I'm linking up with Emily Freeman over at Chatting At the Sky  as we share our Tuesdays Unwrapped: choosing one gift in our ordinary day and writing about it, then click over here for instructions about how to link your post.
What's one unexpected gift you've found in your ordinary day? 
Related Posts
About Author
Comments