31 Days: Is Your Hero Pinterest-Worthy?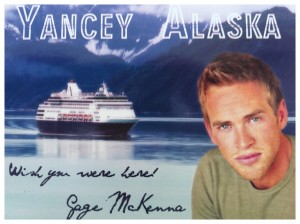 Photo compliments of author Dani Pettrey
Can your hero hijack your Twitter feed? Demand his own status update on Facebook? Fill a Pinterest board with swoon-worthy photos?
It seems to be the latest trend in marketing through social media. I participated in a blog promo recently for Dani Pettrey's latest release, Stranded. To express her appreciation, Dani sent the above postcard and some other goodies. A simple yet brilliant move on her part. Next time I'll be even more inclined to promote her work.
Even if you aren't ready to share your manuscript with the world (or even your best friend), it seems establishing a following through social media is all in a day's work for the modern writer. So build a Pinterest board around that hero of yours. Establish genuine relationships with other writers in your genre. Offer to promote a debut author's new release.
Feeling overwhelmed? Here are several interesting articles to point you in the right direction:
Shaney Lee's recent post on Author Media: Should Your Lead Character Have A Twitter Account?
Edie Melson's blog, The Write Conversation, posts every Monday about social media. Very informative.
Michael Hyatt, former CEO of Thomas Nelson and best-selling author, has tons of resources here
How about you? Any tips for crafting a social media presence for your fictional hero?
Related Posts
About Author
Heidi
A wife, mother of three active boys, voracious reader and writer of inspirational fiction. Also a huge fan of coffee, dark chocolate and happily ever after. My next novel, The Firefighter's Twins, releases June 2018 from Harlequin Love Inspired. I'm represented by literary agent Jessica Kirkland of Kirkland Media Management.