Made To Last: An Interview With Melissa Tagg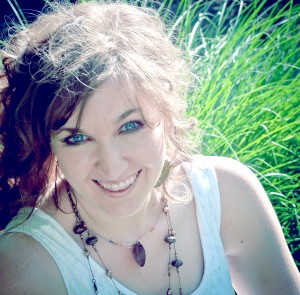 When you read a wonderful book, you can't help telling your friends all about it, right? That's why I'm proclaiming from the virtual rooftops how much I enjoyed Melissa Tagg's debut novel Made To Last. With an entertaining plot and true-to-life characters, Made To Last is a must read for fans of inspirational romance.
I'm so thrilled to welcome Melissa today and talk about some of my burning questions regarding life, her novel, and what we can expect in the future…
Heidi: Melissa, one of the subplots in Made To Last that I enjoyed and found refreshing was the characters' desire to serve others. Matthew wants to contribute financially to his niece's future surgery, Miranda devotes time and energy to helping Audrey and even Blake/Blaze says he wants to help someone. Can you tell us how this subplot came about?
Melissa: Ooh, good question. You know, I tend to be quite the little plotter—I love coming up with the main plot points of a story before I begin writing. But so far in my fledgling author career, subplots seem to come up organically as I write. So Miranda's desire to help Audrey and her family, her volunteering at the shelter, those things sort of just happened as I wrote. I think they came about somewhat naturally probably due to my dayjob working at a nonprofit.
Matthew's desire to help his niece, though, was intentional. Matthew needed a noble, possibly even sacrificial reason, to be willing to travel to North Carolina and shadow Miranda—especially since celebrity reporting was not at all his thing. So I had to ask myself, what would make Matthew lower his career standards? And that's how I came up with his niece and her surgery.
Heidi: The heroine of this story, Randi Woodruff, is the star of a home improvement show called From the Ground Up. I personally enjoy American Idol and The Voice. Do you have a favorite "reality" TV show?
Melissa: Honestly…no. 🙂 I don't really watch any reality TV…or much TV at all. (Though, I will admit, I'm addicted to Downton Abbey and Sherlock.) I'm also not really any good at crafts, DIY projects or building things. I actually have a memory of my high school shop class teacher just shaking his head when he walked past me in class once. Haha! So it's kind of odd that I wrote a book about both reality TV and homebuilding. 🙂
Heidi: Made To Last portrays a famous heroine, the persistent reporter trying to dig up the truth, and the fans who flocked to the blogosphere to read all about her personal life. This made for a very entertaining read and one that is true to life, I think. We as humans get a little excited when we have a chance to interact with a celebrity. In your former role as a reporter or even currently as an author, is there a famous person you came in contact with that you really enjoyed meeting or even made you go a little bit 'fan girl' ?
Melissa: Ooh, another fun question. I have to admit, I loved interviewing presidential candidates. Do they count as celebrities? Probably my favorite and by far the most interesting was Mike Huckabee. He just had such a way of telling stories…loved him. And I know a lot of people think Mitt Romney is somewhat stiff, but in a smaller setting, he was so amiable and much more informal.
Hm, did I go "fan girl" on anyone? Not on any celebrities but I did get to talk to a Secret Service guy once when President Bush was in town…and that pretty much made my year!
Heidi: I thought the character of Blake/Blaze was great. You did a wonderful job of making him both likeable and mysterious. I'm assuming he plays a role in your next novel. Can you tell us more about that?
Melissa: Absolutely. Blake is the main character of my next book, Here to Stay, which releases May 1, 2014. When I started writing MTL, I knew he was a goofball—kind of my comic foil character. But the more I wrote, the more I started sensing a backstory for him. I mean, what would make a guy randomly agree to basically put his life on hold while he pretends to be a celebrity's husband, right? What's he trying to avoid in his own life? So he's got a past, yes, and Here to Stay is all about him going home to face that past.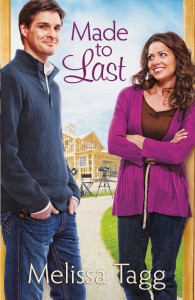 Back cover blurb: Miranda Woodruff has it all. At least, that's how it looks when she's starring in her homebuilding television show, From the Ground Up. So when her network begins to talk about making cuts, she'll do anything to boost ratings and save her show–even if it means pretending to be married to a man who's definitely not the fiance who ran out on her three years ago.
When a handsome reporter starts shadowing Miranda's every move, all his digging into her personal life brings him a little too close to the truth–and to her. Can the girl whose entire identity is wrapped up in her on-screen persona finally find the nerve to set the record straight? And if she does, will the life she's built come crashing down just as she's found a love to last?
Heidi's review: Debut author Melissa Tagg knocked this one out of the park. Made To Last is at times funny and lighthearted, but the underlying theme of facing the wounds from one's past ultimately leads to a story about redemption and finding freedom in the truth.
I found the characters in Made To Last both humorous and complex. They each struggled with the mistakes of their past, doubts about their faith and trying to do the right thing when life is messy and painful.
Lastly, I thoroughly enjoyed the character of Blake/Blaze in Made To Last. He was likeable yet mysterious…the perfect hero for the next novel. I hope we see more of him in the future.
If you are looking for an entertaining yet thought-provoking inspirational romance with a theme of redemption, then you don't want to miss Made to Last by Melissa Tagg. This would be a great book club selection because it is a fun read with likeable yet flawed characters, a bit of a love triangle and a deeper true-to-life struggle that many can relate to.
A big thank you to Bethany House Publishers for sending me an ARC of Made To Last.
Thank you, Melissa, for stopping by today. I've enjoyed getting to know you better and definitely look forward to reading Here To Stay in the spring.
Melissa Tagg is a former newspaper reporter and total Iowa girl. Her first novel, Made to Last, releases from Bethany House in September 2013. In addition to her homeless ministry day job, Melissa is also the marketing/events coordinator for My BookTherapy. Melissa blogs regularly and loves connecting with readers at www.melissatagg.com.
If you'd like to connect with Melissa through other avenues of social media, I know she would love to hear from you:
Facebook: https://www.facebook.com/AuthorMelissaTagg
Twitter: https://twitter.com/Melissa_Tagg
YouTube: http://www.youtube.com/melissatagg
Goodreads: http://www.goodreads.com/MelissaTagg
Related Posts
About Author
Comments