Behind the Scenes: The Imperfectly Awesome Birthday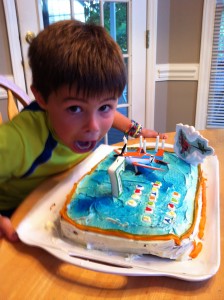 It's one of my life's little ironies … the kid who is constantly moving, cracking jokes, making us laugh and often impersonating some mode of transportation (planes, trains and race cars) is the one who vehemently objects to birthday parties on his big day. I think we might have had a party for him when he turned four. But only because we'd just moved across the country and felt so guilty that he'd be traumatized for life if we didn't have a celebration. He loves the anticipation of his birthday and of course the acquisition of new "stuff" is a thrill for him. But he wants a quiet celebration with just his family. It used to bother me. I felt like he was getting short-changed. What about the Pinterest-perfect party favors? The adorably decorated cake? Let's not forget the fifteen friends jacked up on sugar, racing around the room full of inflatables?
I don't fully understand his reasons, but I finally came to my senses and realized that his preferences are a win-win for all of us. There's no reason to go all out on a birthday party if the end result is only frustration and disappointment (or worse: weeping on the part of the birthday boy). Why should a joyous occasion be miserable?
So I embraced it. I hung up a few decorations in the theme of his choice, shopped for and wrapped his presents, then we mixed his from-a-box birthday cake. The frosting on the cake won't win any awards, that's for sure. I even abandoned the orange strip halfway around the bottom because it was such a disaster. But he loved it. Because we did it together. When I put him to bed at the end of the day and asked if he'd enjoyed his birthday, he said, "Yes plus one hundred."
I guess that's how a first grade boy defines 'awesome'.
And that's what matters.
I'm linking up with Crystal Stine today and wonderful community of writers sharing their Behind the Scenes posts. In the age of Pinterest-perfect party favors and to-die-for status updates, this is where we keep it real and share the reality behind our social media posts. Join us, won't you? 
Related Posts
About Author
Comments