Don't Miss Dani Pettrey's Alaskan Adventures Sweepstakes!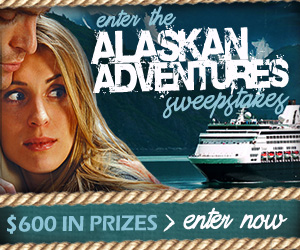 I'm always intrigued when a movie or a novel is set in my home state. Alaska is tricky to depict: diverse, intriguing and saddled with numerous stereotypes. That's why I was eager to start reading Dani Pettrey's Alaskan Courage series when her first book Submerged was released in May of 2012. It was awesome! The perfect blend of spine-tingling suspense and swoon-worthy romance.
She did not disappoint with her second novel in the series, Shattered. The following review sums it up nicely:
"Shattered is a fast-paced suspense and the romance thread is a sizzling undercurrent throughout every chapter. Fans of Dee Henderson's O'Malley Family series will love Pettrey's McKenna clan. Shadowed by danger at every turn, but passionate about finding justice regardless of the cost, the McKennas are well worth getting to know and Pettrey is an author to watch." -USA TODAY
Imagine my excitement when I found out book 3 was available this month! From the publisher:
"In Stranded, Book 3 in author Dani Pettrey's acclaimed Alaskan Courage series, reporter Darcy St. James knows something is wrong when her friend vanishes from her job on a cruise ship. Everyone else believes Abby simply left of her own accord, but something isn't lining up, and Darcy knows the only way to find the truth is to put herself in Abby's position.
Gage McKenna has taken a summer-long stint leading adventure excursions for the passengers of various cruise lines that dock in Alaska for a few days of sightseeing. He's surprised to find Darcy onboard one of the ships, working undercover as a reporter.
Something sinister is going on, and the deeper they dig, the more they realize they've only discovered the tip of the iceberg.
To celebrate the story, author Dani Pettrey and Bethany House Publishers are pleased to present the ALASKAN ADVENTURES Sweepstakes, and your chance to win one of three fabulous prizes connected with the story!"
For all the details on how you can enter to win one of these three fantastic prize packages click here
Hurry! Deadline for entry is September 19, 2013 @ 11:59 pm (PST). Entry is open to US residents only, age 18 and over. Winners will be selected Friday, September 20, 2013, and announced at DaniPettrey.com.
For more information including chapter excerpts, story soundtracks and character bios, visit Dani Pettrey's incredible website.
Good luck!
Related Posts
About Author
Comments