5 Things I Learned in August
I'm linking up with Emily Freeman on this final day of August to share somewhat amusing tidbits I've learned this month. Such a great group of bloggers have joined in the fun, so grab your coffee and dive in. I always learn something new about how to use my iPhone…
1. I'm capable of cross-country air travel with my children: I believe it was Eleanor Roosevelt who once said, "…you must do that thing you think you cannot do…" I wanted our boys to have an extended visit with their grandparents, aunt, uncle and cousins but my husband didn't have a lot of vacation time available. So with much trepidation, I bought tickets to fly across the country with the boys but without the husband. Of course he joined us for the second week of the trip. We made it without incident, with the exception of a very short layover in Denver in which there was only enough time to feed the starving cherubs a small snack. Otherwise, it was an awesome adventure. Thank heavens for portable electronic devices and the prayers lifted on our behalf.
2. I still haven't outgrown my affection for Eddie Bauer's merchandise: You can take a girl out of the Northwest but you can't take the Northwest out of the girl…the fall catalog arrived yesterday. I'll take one of everything, thank you.
3. No animated movie could ever be as awesome as CARS…but Planes was darn close. The boys have been waiting for the release of Disney's new Planes movie since they saw the trailer more than a year ago. We adored everything about CARS: the plot, the characters, the hilarious dialog…everything. I was skeptical about this new flick. But much to my surprise, I thought it was very good. It probably helps that my six year old was overjoyed and sat on the edge of his seat for every single second of the movie. It's hard not to love a movie when he's your sidekick.
4. "Who am I that the Lord of all the earth would care to know my name?" That's a line from one of my favorite Casting Crowns songs. Each time I dip my toes in the Pacific Ocean, I stand in awe of our Creator and his magnificent handiwork.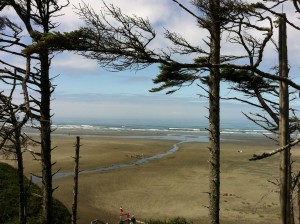 I'm reminded once again that the One capable of creating all of this also cares about even the smallest details of my life, too.
5. Seeing a famous country music singer brings out my inner teenager: Scotty McCreery walked by us at the Nashville airport a few week ago and I went all giddy and called out his name. Much to my surprise, he looked our way and acknowledged our existence. The fun didn't stop there. Thanks to Southwest Airlines fabulous open seating, we were able to choose seats near him at the back of the plane. Lucky him. He was very polite and happily signed an autograph for one of our kids. My husband, the voice of reason in this relationship, pointed out that he probably wanted to be left alone and discouraged me from any further conversation. I couldn't believe it when two other women sat down next to him and never said one. word. How could they not know they sat in the company of greatness? I'm still baffled as to why seeing someone whose music I enjoy sent me from semi-rational, married, mother of three to glassy-eyed fan in about 4.2 seconds.
Related Posts
About Author
Comments