Behind the Scenes: Take Me Out to the Ballgame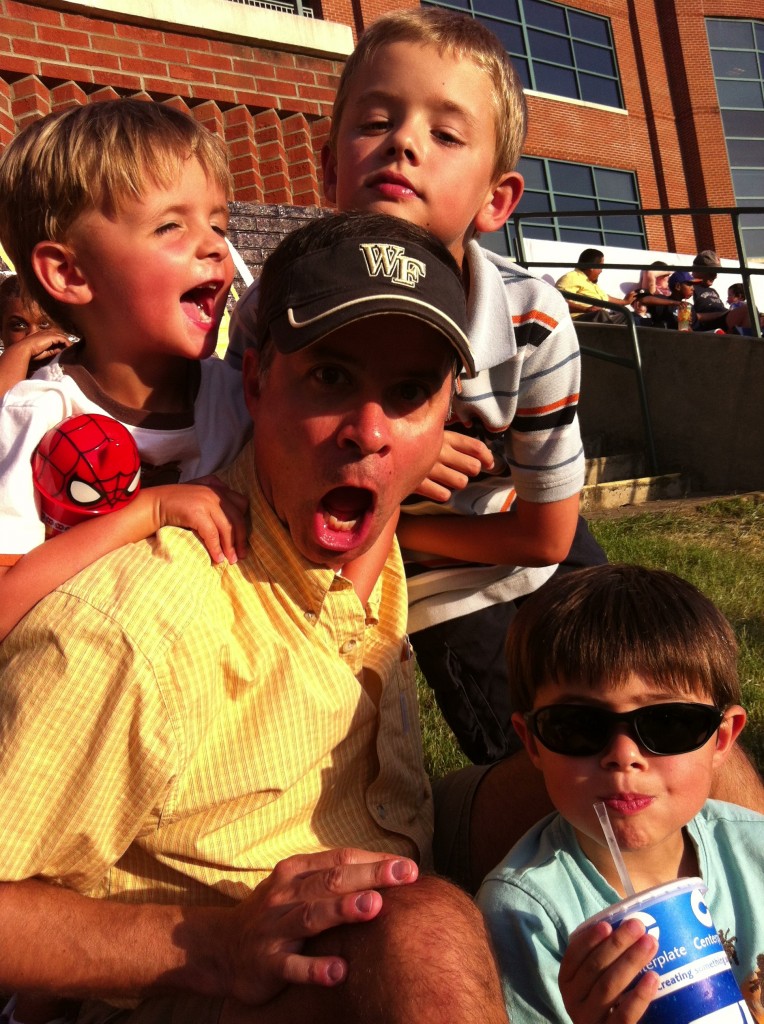 Several weeks ago, our church announced plans to attend a minor league baseball game on a Sunday evening in late August. We were on vacation when I received the email and before I bothered to talk to my family, the deadline for purchasing tickets came and went. Another announcement was made in church this past Sunday that families could still attend if they purchased tickets on their own. I thought the boys would beg us to take them to the game.
Nope.
Nobody said a word. In the car on the ride home, I suggested it might be a fun way to spend a Sunday evening since we'd never gone as a family. In the interest of full disclosure, let me just say we spent most of Saturday at the pool, squeezing the last drops out of summer. I couldn't bring myself to go back for another round, even if there is a hint of fall in the air and leaves are already turning. At this point, I'm pretty grateful that my days at the pool are numbered.
The boys were ambivalent, or maybe their blood sugar was low and they couldn't think past lunch…who knows. The hubby and I were definitely not on the same page. After some discussion, we agreed it might be worth a shot and we could probably survive pushing bedtime back by an hour.
What was I thinking? 
While it was chilly at our house, not so much at the field.
Everybody and their brother had the same idea. Tickets were all sold out, except for the lawn on home run hill. We threw caution to the wind and bought tickets, anyway. We hiked to "the lawn" which is in the outfield and a very much a hill in every sense of the word. I'm not sure there's more than a square inch of flat ground anywhere and if there was, somebody had already staked it out.
Much grumbling ensued about the sun beating down on us, the distance from the field and the lack of comfortable seating. I definitely pondered evasive action at least twice an inning. But we distracted the cherubs with nutritious sustenance such as snow cones and cotton candy and all was right with the world.
Although the younger two didn't understand the game at all, they loved the entertainment. When the mascot rolled onto the field in his miniature car and raced around the warning track, the boys slipped/slid/ran down the hill to the railing and screamed their heads off. They hoped and prayed for a home run and asked us 967 times what was going to happen next. Just when we wanted to pack it in and get a head start back to the car, the announcer called for everyone to play their "air guitars" for the camera. Sure enough, three cute little boys on the hill riffed with all their might and ended up on the jumbo TV screen for the whole stadium to see. Totally made it all worth it.
Although it was a little bumpy, I'm glad we put aside our agendas for the afternoon and ventured beyond our comfort zones for a fun family outing that won't be soon forgotten.
How about you? Would you like to share a snapshot of your reality? Maybe an outing that didn't go well or just a snippet of daily life that looks rosy and glorious but was actually a disaster waiting to happen? Join a wonderful community of bloggers over here as we cast aside our polished personas and share what really went on behind the scenes.
Related Posts
About Author
Comments