Behind the Scenes: Jet Lag? Who Has Jet Lag?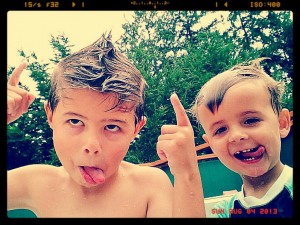 Our recent vacation carried us across three time zones. While it was still the middle of the night on the West coast, the boys had "slept in" according to their body clocks. Ugh. I plied them with fun apps on the Kindle and more than enough Disney Jr on television…my options for somewhat quiet activities were running out.
Thankfully Grandma and Papa came to the rescue and uncovered the hot tub after breakfast. While I clutched my coffee cup close and moaned about my exhaustion, they rocked out to some tunes from the Cars soundtrack and restyled one another's hair.
Jet lag? Who has jet lag?
You can always count on little boys to bounce back quickly from the fatigue of a long trip. Even though I wanted to be sleeping, I couldn't help but laugh at their antics.
How about you? Snapped a photo recently with a back story you'd like to share? 
Crystal Stine hosts a fun link up every Tuesday called Behind the Scenes: " The sneak peek behind the scenes, a look past the edges of the photo to the real life behind it."
Come join a fantastic community of bloggers who share snapshots of what's really going on in their world. Click here for more details.
Related Posts
About Author
Comments