Pool Etiquette 101: A Tired Mama's Dilemma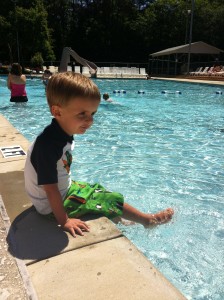 We followed in the footsteps of our neighborhood friends and joined a pool this summer. The boys beg us to take them after school, Eli asks every night before bed if we'll go when he wakes up…we plan our weekend activities around pool time and the local weather forecast. I think it's pretty safe to say this was a great decision for our family.
However.
This quality family time is starting to feel like a marathon. My word, the packing alone can do you in. The snacks, the toys, the towels, the sunscreen, small bills… because of course everything tastes better when it has to pass through that magical window of food service known as the snack bar.
As an Introvert with a capital I, and the parent of at least one extremely extroverted child, I've found myself (on more than one occasion) counting the minutes until we can pack it in and head back to the hive.
Because here's the thing: Our extrovert? He's a magnet. We aren't at the pool three minutes and he's naming all the children he knows. Before I can kick off my flip-flops, he's in the water with his buddies. While I'm thrilled that he makes friends easily and loves people, I think we can all agree that six year old boys can be found lacking when it comes to impulse control. And it isn't long before this other child is hanging off my kid, submerging him underwater repeatedly, snatching toys from my three year old and/or addressing me with, "Hey, watch me."
No, thank you. I've got three of my own who all want me to cheer for their diving/flipping/bubble blowing.
Call me snarky, insensitive, whatever. Maybe I'm just insanely jealous. I'd love to be lounging poolside, novel in hand, completely oblivious to the world around me. Because this is usually where the parent of the repeat offender can be found. While our children sit side by side for six hours a day, the adults don't even know each other's names. We might have spoken to each other at meet the teacher night or lined the wall at another school function. This only adds to an extremely awkward situation as the day wears on, because things generally deteriorate pretty quickly and it isn't long before my child is asking if we can "play somewhere else".
So what's the solution? We've tried the grin and bear it technique because after all, we want to teach our children to be kind and love others. Backfires every time. We're all miserable and resentful within a matter of minutes.
I've resorted to the frosty cold shoulder and the stern reprimand which buys a few minutes of peace while the little stinker goes off and pouts. Unfortunately, like moth to a flame, our extrovert is instantly remorseful and wants to play with his "friend" again. Grrrrr.
Short of stomping across the pool deck and snatching the smartphone out of the clueless parent's hands, I'm at a loss for how to handle this tricky situation.
Let's discuss: How do you navigate behavior issues in communal situations (pool, playground, etc.) when the other adult is seemingly unaware of the circumstances? 
Related Posts
About Author