Behind the Scenes: Laughter Is The Best Medicine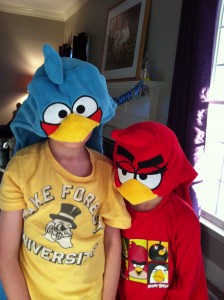 Linking up with Crystal Stine today as we share a look "behind the scenes"…in the spirit of authenticity we are posting real photos of our everyday lives in an effort to share our struggles as well as encourage one another.
I needed something light-hearted today and this is one of my favorites pics from recent months. Once again, our third child isn't in the picture (I really do have three kids) because he wasn't awake yet. We took this picture early in the morning on our oldest son's (blue bird) birthday. They are always up early, but the wake up call came even earlier because it was a special occasion. They donned their capes and entertained themselves with acting out scenes from the Angry Birds game, filling our family room with laughter.
Mornings are hard for me. I like to stay up late enjoying the peace that comes from a quiet house. The creative juices are often flowing and I have a hard time shutting down and going to bed at a reasonable hour. But this makes for painful mornings and a grumpy mama. I don't find a lot of joy in the lengthy to-do list that greets me as I roll out of bed.  However, this picture  makes me smile and reminds me that I'm blessed to have healthy, creative children who sometimes enjoy playing together, share a common love of Angry Birds. The kiddo on the right is our comic relief, the life of the party and has a heart as big as Texas. We often shake our head in wonder that he swims in our gene pool, but God knew what we needed. He knew we would get wound up over little things, take ourselves too seriously and fall short in so many ways of living joyfully.
This picture reminds me once again that we're blessed beyond measure. Laughter is good for the soul, indeed.
Care to join us? Come on over here and share your story.
Related Posts
About Author
Comments